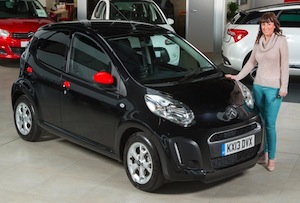 CITROEN has become the first car maker to fit an insurance black box as standard into one of its cars, the Citroen C1 Connexion.
Black box technology records data on when and how the car is driven – including speed and acceleration – so insurance companies can analyse driving style and alter the insurance premiums accordingly. Good, gentle drivers, who perhaps don't drive during the riskiest (or busiest) times, will be rewarded by cheaper insurance renewal prices.
Citroen is the first manufacturer to fit a black box as standard into a new car, in a move that may kick start a trend in models frequented by first time or less experienced drivers.

As an added incentive, Citroen will offer free insurance to drivers aged from 19-75 years old with two years no claims discount, as well as heavily discounted prices to those without.
In the second year however, renewal premiums will be based on the driver's behaviour over the first 12 months, meaning prices may be cheaper regardless of the age and sex of the named drivers on the policy.
The C1 Connexion also has the distinction of being the UK's first production vehicle to be created in collaboration with Facebook, as more than 24,000 members of the social media site helped to configure the model.
All versions of the C1 Connexion therefore come with alloy wheels, satellite navigation and the choice of Caldera Black or Carlinite Grey paint (with contrasting red mirrors).

The C1 Connexion is available as both a 3-door and a 5-door, with prices starting at £9,820.