Two UK dealer groups have been honoured in Nissan's coveted Global Awards.
Long-serving Nissan dealer Yeomans, which operates eight Nissan dealerships in southern and South-West England, scooped the Large Dealer Group trophy, while the Small Dealer Group award went to Wellington Motors' South West Nissan operation, which has three showrooms representing the brand in Somerset and Devon.
The businesses triumphed after undergoing a tough judging process in which they were assessed against the best of the best in key Nissan markets around the world.

Trophy handover ceremonies were attended by senior executives from Nissan and both dealer groups, which won praise for delivering consistently excellent customer service and showcasing Nissan's model range.
Csaba Vincze, Nissan's network development and customer quality director, presented South West Nissan's award to Matthew Holcombe, group managing director, and Craig Jolly, aftersales director, at the company's dealership in Wellington, Somerset. Sister Nissan showrooms are in Barnstaple and Exeter.
Holcombe said: 'Naturally, we are delighted to receive this award! We see it as recognition of the hard work of everyone at South West Nissan. All three of our dealerships have extensive repeat client databases and we genuinely care for our customers, forming long-term relationships with many of them.

'We're passionate about customer care, passionate about representing Nissan and it's wonderful that our efforts have been recognised in this way.'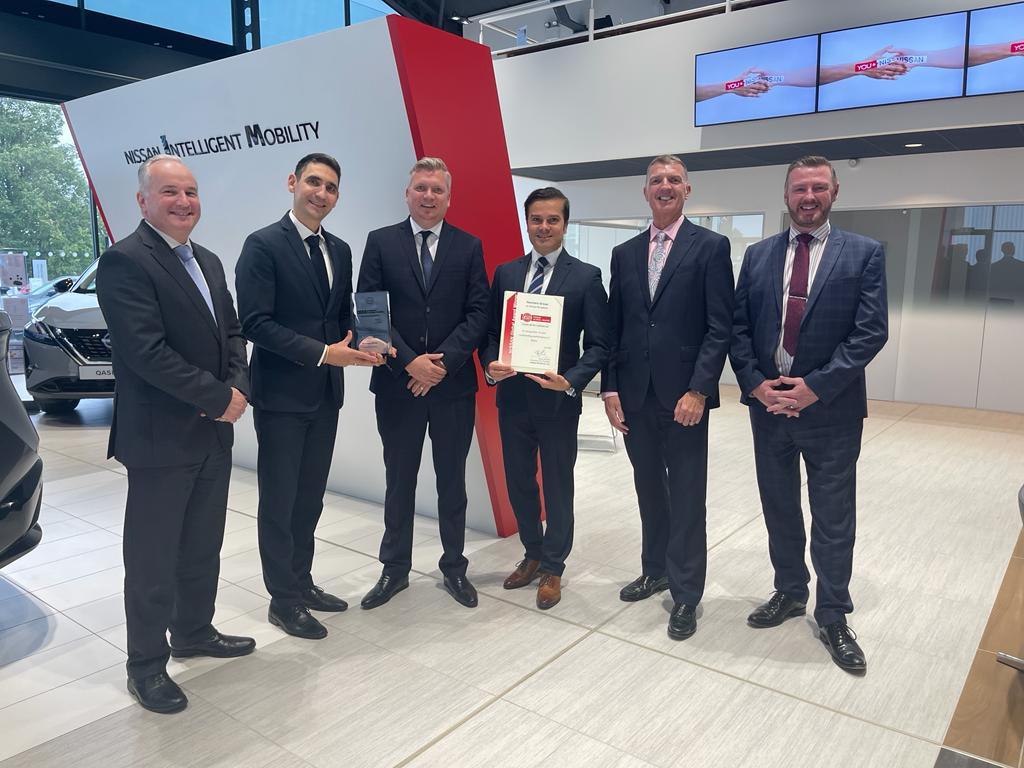 The Large Dealer Group winner, Yeomans, represents Nissan in East and West Sussex, Hampshire and Devon, with showrooms in places such as Plymouth, Portsmouth, Aldershot and Haywards Heath.
Tony Hill, Yeoman's Nissan franchise director, said: 'We are absolutely delighted and honoured to receive the Global Large Dealer Group of the Year Award.
'We continuously strive to deliver an exemplary customer experience at each and every opportunity and it is our hard working and dedicated employees who make this truly possible.'
Csaba Vincze said: 'Many congratulations to both Yeomans and South West Nissan on these well-deserved awards. I have three things to thank them for.
'Number one is the attention they pay to their customers – an excellent level of customer service is our ultimate goal. The second is the investment both companies have made in their sites, which not only helps attract customers, but also provides a very good working environment for colleagues. And the third is simply a consistently high level of performance.
'Very well done to all concerned.'
Pictured top: From left to right at the South West Nissan presentation are Craig Jolly, South West Nissan aftersales director; Matthew Holcombe, group managing director; and Csaba Vincze, NMGB network development and customer quality director
Pictured middle: At the Yeomans trophy presentation ceremony are (from left): Tony Hill, Nissan franchise director; Csaba Vincze; James Smith, Yeomans managing director and chairman; Michael Auliar, NMGB sales director; Kevin Newitt, Yeomans operations director; and Leon O'Hara, Yeomans aftersales director