The new edition of Car Dealer is out now – and it's 58 fabulous pages full of news, views, reviews and features!
Issue 188 is free to read and download – here's a taste of what's inside…
Dashboard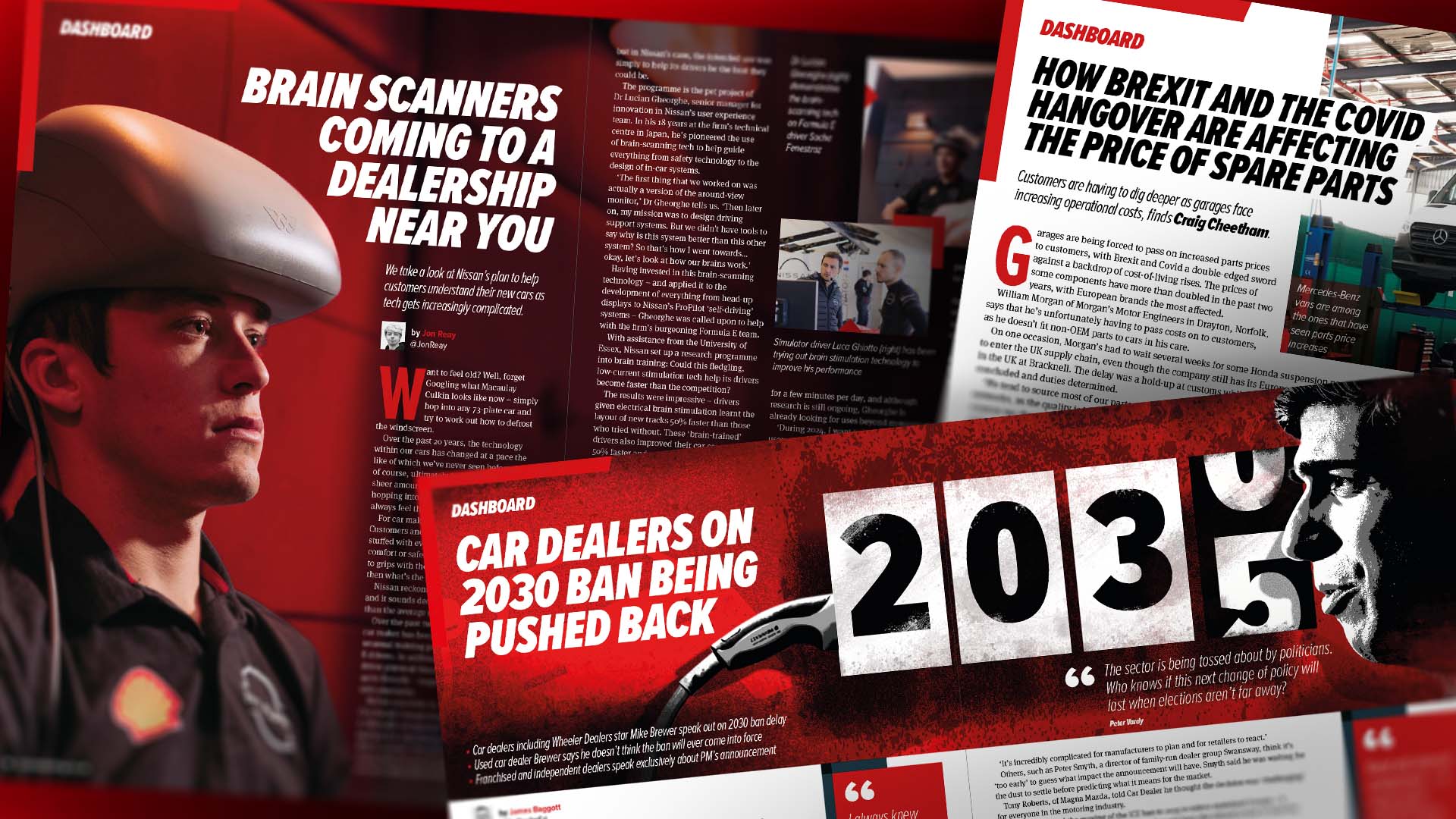 The sudden U-turn by the government on the 2030 ban on the sale of new petrol and diesel cars – one day saying it was sticking firm to it, the next saying it was pushing it back to 2035 – wasn't too much of a surprise, as most people were expecting a delay.

We've got a four-page special looking into it, with car dealers and manufacturers having their say on whether it's a good thing or not.
Elsewhere, garages and car workshops are having to contend with increasing prices caused by a variety of factors.
It's a perfect storm that's causing a far-from-perfect situation, with customers facing higher bills as the rising costs are inevitably passed on to them. We chat to repairers about the frustrations they're facing and how they're doing their best to surmount them.

Not only that but we also find out how Nissan is using sophisticated brain-scanning technology to help dealers help customers grapple with car technology that's getting ever more complex.
Investigation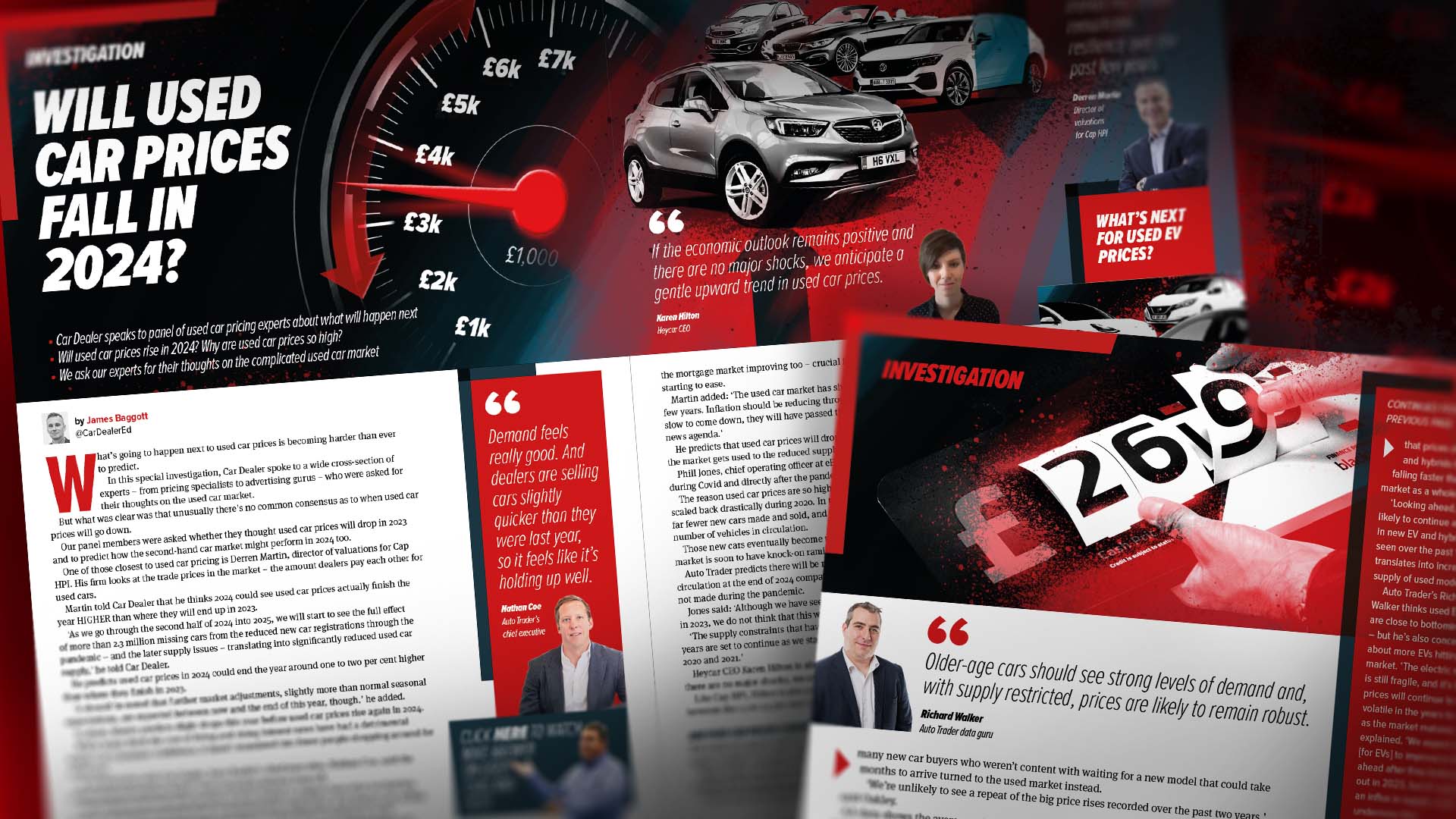 As we near the end of 2023, we talked to used car pricing experts to find out what they think will happen to the prices of pre-loved cars next year.
Will they go up or down? Find out what they think here.
Car Dealer Used Car Awards 2023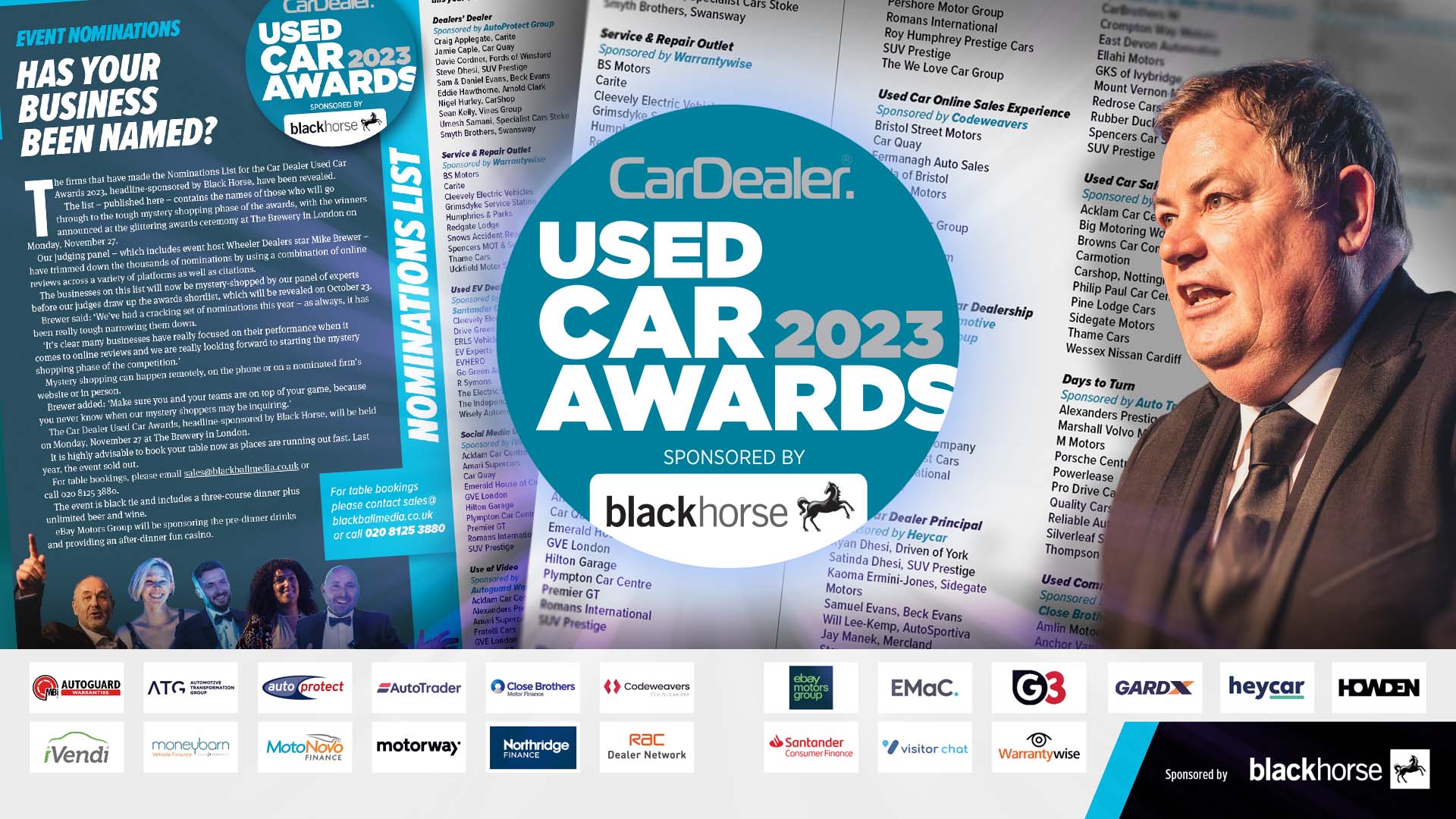 Voting for this year's Used Car Awards has now closed and the intense judging process is under way! Who and which businesses have been nominated? Find out here with our long list!
This is now being whittled down to make the shortlist, and from there the winners and highly commendeds will be named on the big night on November 27 at The Brewery in London.
Not got your table yet for the main event in the UK used car calendar? They sold out last year and are going just as fast this year, so don't miss out on the glittering occasion. It's a wonderful way to network and kick off the Christmas party season, so book your UCA 2023 tickets now – email the team.
Forecourt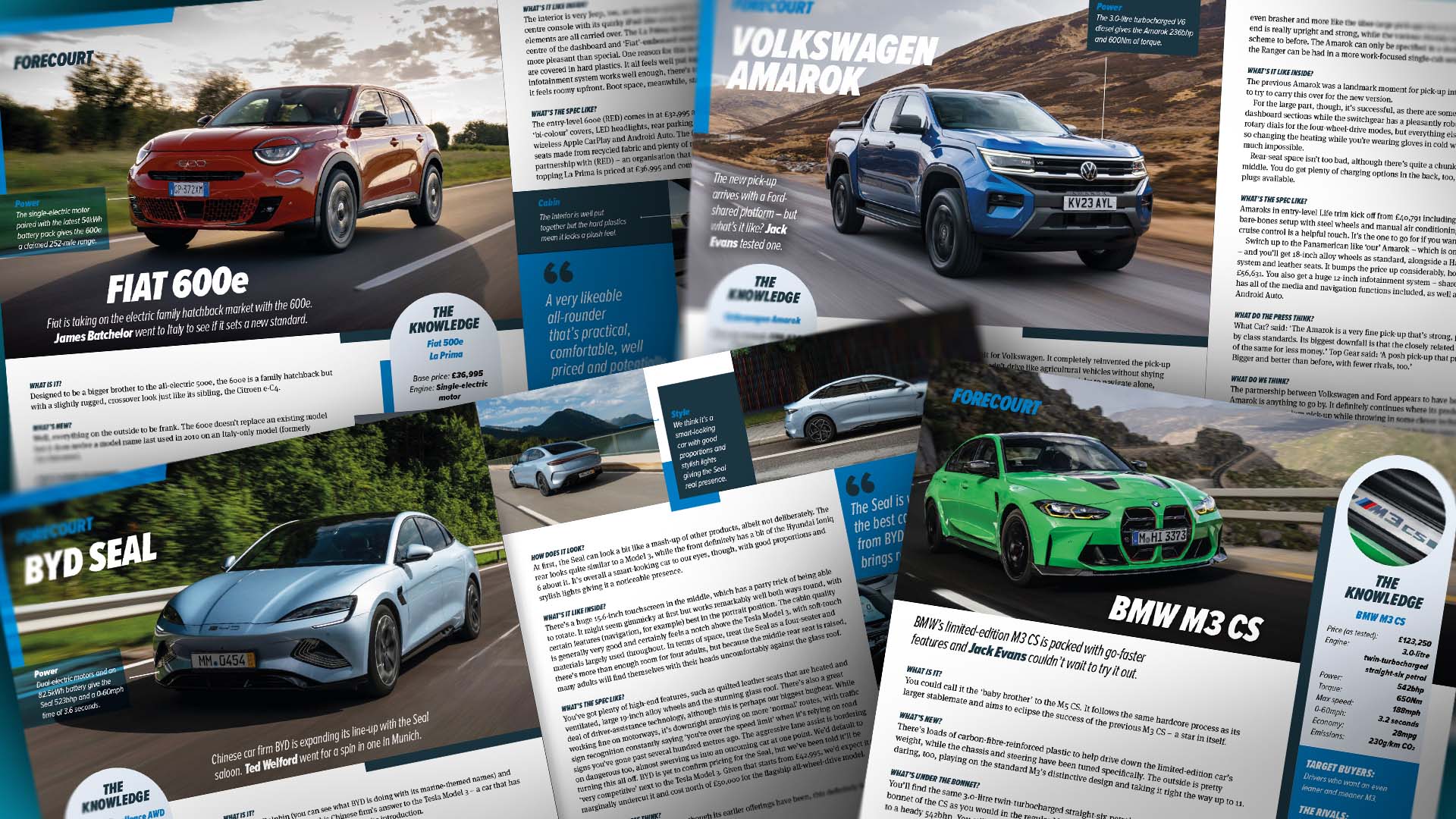 We've got a fab four for you to get the lowdown on in this issue: the all-new Fiat 600e, BYD Seal, Volkswagen Amarok and BMW M3 CS.
James Batchelor, Jack Evans and Ted Welford were tasked with getting to grips with them. Discover what they thought in our regular section devoted to test drives.
Features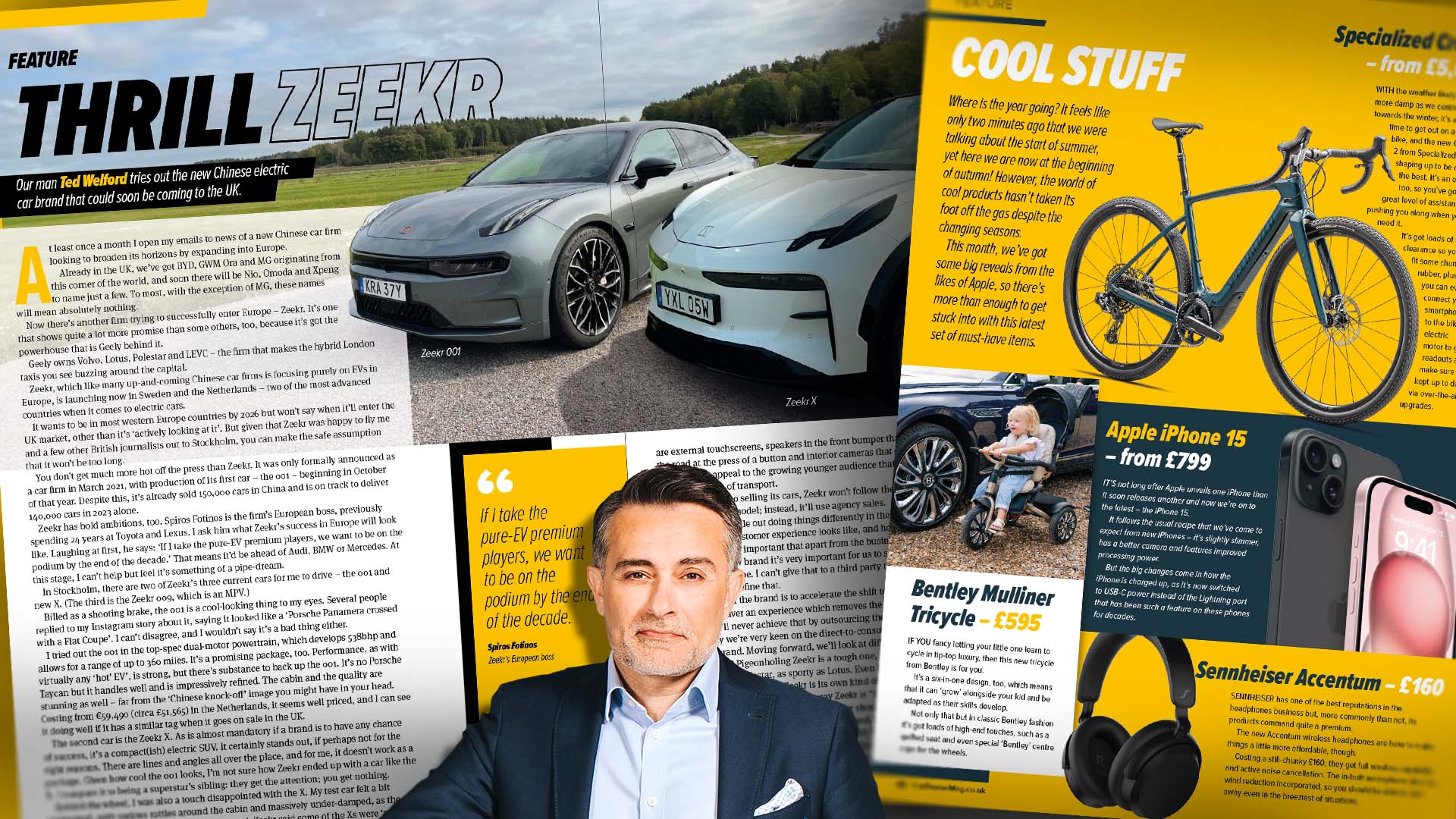 Another month, another new Chinese automotive brand to contend with…
Zeekr is the latest manufacturer looking to make a name for itself – and it's got the backing of Geely. Ted Welford spoke to its European boss to find out more about its ambitions.
We also have our regular look at the latest cool products to splash your cash on.
Columns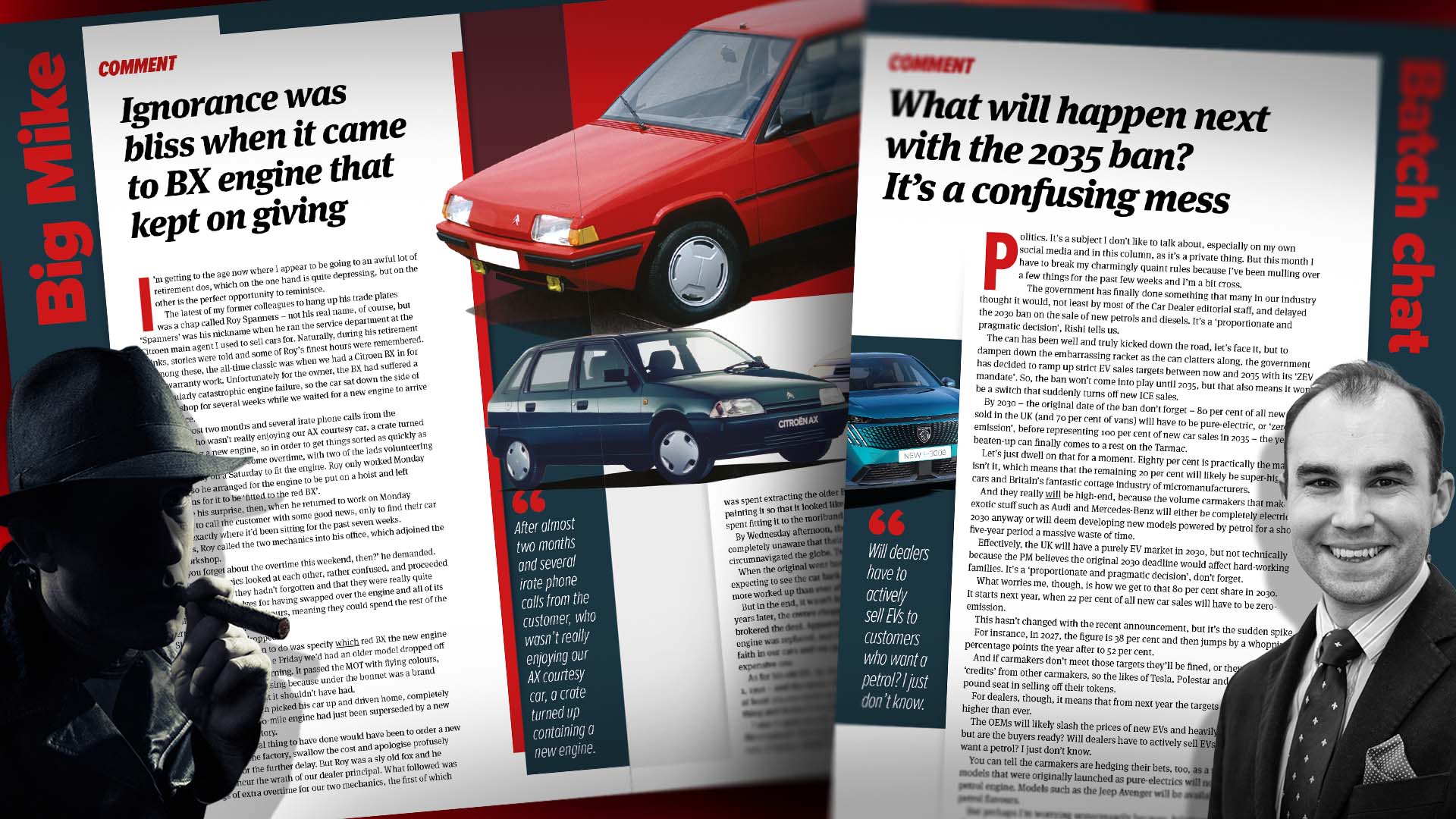 James Batchelor looks at the ramifications and harsh realities of the 2030 ban U-turn and the ZEV mandate
Meanwhile, ever-popular mystery columnist Big Mike recalls an audacious scam that a former colleague managed to pull off
Round-ups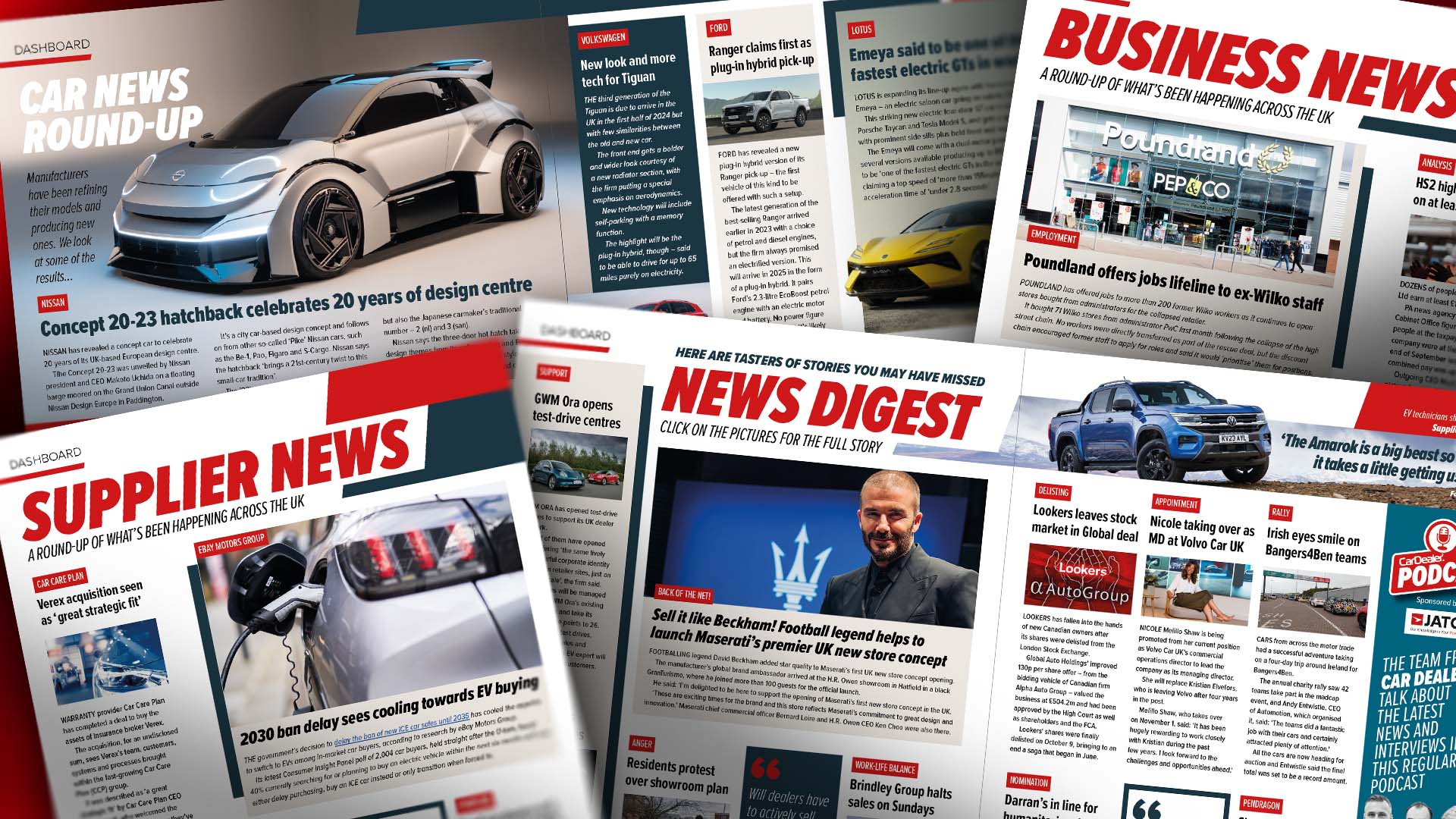 Our four-page news digest has loads of the biggest automotive industry stories in bite-size pieces. To read them in full, simply click on the boxes!
There are business and supplier updates as well, plus a look at what car manufacturers have been up to recently.
Also inside…
In our regular finance section, First Response digital marketer Richard Pygott gives some handy tips for dealers to make social media really work for them.
All this is just a taster of what's in the 58 pages of issue 188 of Car Dealer – which you can read and download for free via Issuu.
How to read and download the magazine
The easiest way to access it all is by clicking on the digital magazine below.
For a quick video on how simple it is to read Car Dealer online, click below:
Want to read it on your mobile device? It's also viewable in the Issuu app, both for iOS and Android. Switch your notifications on and you'll get an alert every time a new magazine is published.
Want to make sure you're kept informed about new magazines being published? Subscribe to our email newsletter and you'll be contacted as soon as each issue is released.
And for daily breaking news updates, join our WhatsApp group to get them sent straight to your phone.
Email us via the website here to get a link to join.