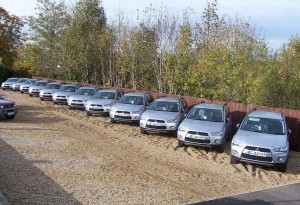 A FAMILY-RUN car dealership has supplied Kent County Council with 12 vehicles to help rescue motorists in times of need.
The 12 vehicles are all 4×4 Mitsubishi Outlanders, capable of tackling the toughest driving conditions and adverse weather.
Long-running family business Humphries and Parks, based in London Road, West Malling, won the contract after going up against some of the biggest retailers in the country.

Dealer principal at Humphries and Parks, Marcus Joy, said: 'We were pleased to earn this contract with the council and we believe it's down to being a trusted dealer, having built up an excellent reputation over many years.
'The Outlanders are the perfect vehicle for the council, they will be able to tackle anything thrown at them and get help to stranded drivers in need.
'It's also good to see the council supporting a local business and we hope that once they see how good the cars are this relationship will continue in the future.'
Humphries and Parks is the oldest established Mitsubishi dealer in England and the staff, who pride themselves on good service, had just a week to get the cars ready.

Regular maintenance
The council has fitted the 12 silver Outlander GX3s with lights on the roofs and their own graphics.
The vehicles are on a three-year lease and Humphries and Parks will handle any repairs and the regular maintenance – something they already do for the Mitsubishis used by the Highways Agency in the area and Kent Police.
Sales executive of 23 years Peter James, who worked on the deal, said: 'The council is very pleased with the vehicles. We managed to get all 12 vehicles ready for them in a week so it was quite fun to work on and satisfying seeing them all lined up ready to go.'