A used car dealer that fraudulently claimed it had won Car Dealer awards has been investigated by Trading Standards.
The investigation found that the website – CarStar Autos, which claims to be based in London – had 'all the hallmarks of a being a scam'.
Trading Standards have asked Car Dealer to once again raise awareness of the dodgy used car dealer which, when questioned as to why they were using our awards without permission, told us to 'f*** off' and that they were 'not interested'.

The month-long investigation was launched after the alarm was raised about the website which used stock images of cars and fake pictures of staff.
It also hid who had registered the domain name, yet listed a London phone number for potential buyers to call.
Laura Haydock, a Trading Standards officer, said: 'I referred the details to London Borough of Westminster Trading Standards who cover the geographical area where the trader claims they are based, who have looked at the matter. 
'They have informed me that it appears the trader is not based at the address they purport to be in London. ​

'The website has the hallmarks of being a scam, potentially in relation to fraud and data harvesting.'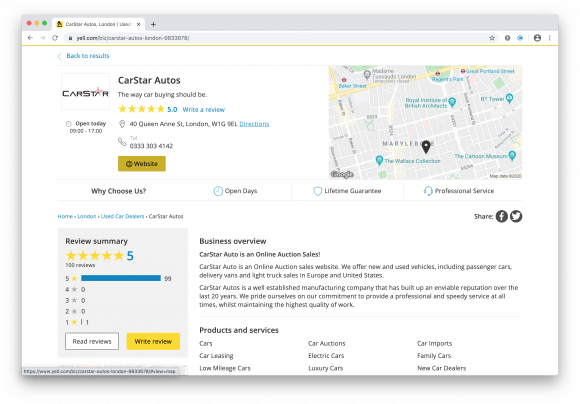 On the CarStar Autos' Yell.com listing the used car dealer claimed it had won Car Dealer Power Awards eight years running.
Stupidly, the scammers had not realised that Car Dealer Power Awards are in fact handed out to suppliers and manufacturers – voted for instead by dealers.
Car dealers have never been the recipients of our Power Awards.
Several potential customers contacted Car Dealer to enquire about CarStar Autos and complained that they are incorrectly using the accolades.
Trading Standards said any fraud victims who feel they may have been caught out by CarStar Autos should report the matter immediately to Action Fraud or Citizens Advice Consumer Service who will look into the matter further.