Used car dealer and apparent broker CarStar Autos has been reported to London Trading Standards after falsely claiming it has won Car Dealer Power Awards for nine years.
The Car Dealer Power awards are handed out to car manufacturers and suppliers to the motor trade only and are never given to car dealers.
CarStar Autos, based in London, has falsely claimed on its Yell.com listing that it has been Highly Commended in the Auction House of the Year category of our Car Dealer Power Awards.

This is not the case and a false and misleading claim.
The website appears to use stock images to illustrate members of staff, no office address is listed and the registered owners of the domain name are hidden.
A spokesperson for CarStar Autos told Car Dealer Magazine to 'f*** off' and that they were 'not interested' when we called them and told them the false claims should be removed immediately.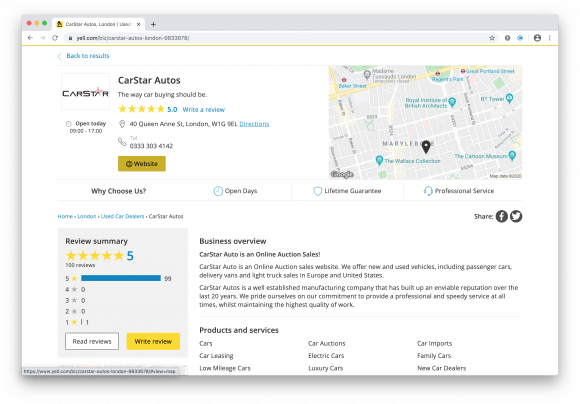 Car Dealer has contacted the local Trading Standards office and reported the company for misleading advertising.

Several potential customers have contacted Car Dealer Magazine to enquire about CarStar Autos and complained that they are incorrectly using the award accolades.
A spokesperson for Car Dealer Magazine said: 'Companies passing themselves off as award winners are misleading customers that they are good businesses.
'In this case we can confirm we have never heard of CarStar Autos and they certainly have not ever been Highly Commended in our Car Dealer Power Awards.
'They awards are only handed out to the best in the business and are voted for by our readers. This business is misleading its customers and we would suggest people think very carefully about a business that feels it needs to pass itself off as an award winner when it is not.'
This year's Car Dealer Power awards will be launched in July and will be hosted and presented online for the first time. More details will be revealed in the coming weeks.