Car Dealer Magazine's digital issue 148 is out – so sit back, relax and settle into reading your favourite motor trade publication wherever you are.
Our digital magazine can be viewed here on this post on whatever you're reading this story on, or you can download the Issuu App to your iPad or other tablet to get a more immersive experience.
To view this month's issue just click on the image above and you can view it full screen, zoom in and out to read the stories and flick through the digital pages.

Inside this month's jam-packed issue you can read about:
News 
We've rounded up the month's news in our bite-sized sections which digest the latest from the dealer, business and supplier worlds.
Investigations

We've bought together our most popular Car Dealer Investigations into one place for you to read at your leisure including:
A detailed look at the used car market in a special investigation for the motor trade
Which used cars are dropping the fastest in value
Whether digital car dealerships are here to stay
A look at a booming area of the motor trade – why motor home sales rocketing and prices rising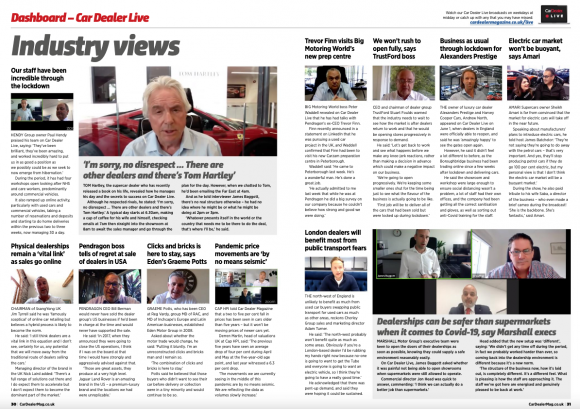 Car Dealer Live round-up
With interviews in the last month with the likes of Tom Hartley, Alexanders Prestige, Peter Waddell and Pendragon boss Bill Berman, we've had a packed few weeks of interviews on our live show. Here we round up what they said and give you handy links to watch them all.
Hot hatch test
We pitch hot hatch rivals including the Honda Civic Type R, Hyundai i30N, VW Golf GTI TCR and Ford Focus ST against each on wet Welsh roads (aren't they always?). Find out which comes out on top.
Porsche Taycan
We road test the Tesla Model S alternative from Porsche which can hit 161mph and 60mph in just 2.6 seconds. Not to mention, look absolutely stunning while doing it.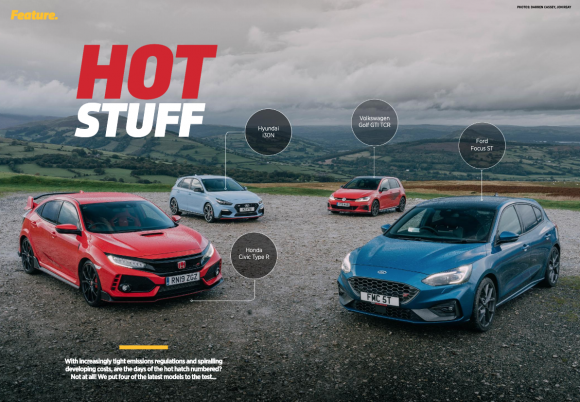 Columnists
James Baggott ponders where car dealerships fit in to a digital future
James Litton whispers it quietly – but he's back at work and very busy
While our secret man in the the trade Big Mike has a look back at the history of the 'Special Edition'
Advice
Our advice section has a variety of handy guides including:
11 top tips for the restart every car dealer boss should know
A guide to making redundancies
And the crucial difference between click and collect and reserve and collect
Suppliers
We also hear from Car Dealer Magazine's supporters (who among our advertisers ensure we can make the magazine happen for free for you) including:
First Response's Ben Garside on not opening showrooms
HeyCar on the road to recovery
Autoguard Warranties on ensuring your dealership enjoys a fast rebound
New online classified website YoAuto gets introduced
And insurer Gallagher explains the difficulties in managing Covid-19 restrictions in the workplace
The easiest way to access it is by clicking on the digital magazine at the top of this page. 
For a quick video on how to do it, click below:
Want to read on your mobile device? It's also viewable in the Issuu app, both for iOS and Android. Switch your notifications on and you'll get an alert every time a new magazine is published.
Want to make sure you're kept informed about new magazines being published? Subscribe to our email newsletter, and you'll be contacted as soon as each issue is released.
And for daily breaking news updates Join our WhatsApp group to get them sent straight to your phone. Email us via the website here to get a link to join.