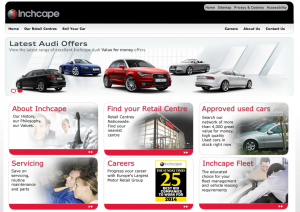 BRITAIN'S fifth largest dealer group, Inchcape, has reported an 11 per cent rise in third-quarter sales, benefiting from strong demand for new cars and the falling age of used vehicles.
The firm, which operates in 26 countries and distributes cars for global brands including Audi and Jaguar, posted revenue of £1.7 billion between July 1 and September 30, up 10.6 per cent.
The company said demand for new cars was 'well ahead' of last year and that the used car segment had grown thanks to an increase in vehicles ages between one and five years old.

Inchcape, which expects to end the year with a net cash balance of around £200 million, said it was on course for strong growth in 2014, helped also by a long-term strategy focusing on the sale of luxury models.
'Our focus on premium growth will continue to deliver premium returns for our shareholders,' said CEO Andre Lacroix, who will leave the company in 2015.
Britain is on track for a total of 2.45 million new car registrations in 2014, which would be the highest level recorded since 2004, according to the SMMT.
MORE: Strong performance at Inchcape

MORE: Revenues pass £1bn at Vertu Motors