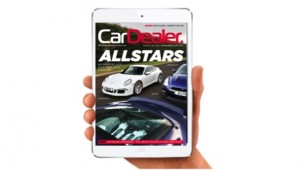 ISSUE 63 of Car Dealer is now available and free to download directly onto your iPad!
The June issue of Car Dealer is bursting with auto content and the biggest issue yet! Issue 63 is all about the battle of the supercars, so there's plenty of high-octane material covering the leading four-wheel-drive supercars and which one we think is the best.
There's also a head-to-head shoot-out as we've put the Ford Fiesta ST up against the iconic XR2, to find out if the successor can match the ultimate historic hatch.

Download the FREE Car Dealer iPad app now
All Stars
It's always a difficult call when three ultimate supercars come together in a challenge to name the best one. And we didn't make it easy for ourselves…Our line-up was made up by a Nissan GT-R, an Audi R8 and new 911 CS4. We take the three raging machines to twisting roads of Wales to crown the champ.
The Car Dealer conference
This year's Car Dealer conference was the best-attended yet! The Heritage Motor Centre in Gaydon hosted the conference where hundreds of dealers and industry figures came to hear our 10 speakers. Read the Issue 63 to get the best advice on generating profit.
Above and beyond dealers
A look behind the scenes reveals the heart-warming stories of dealers going to the extra mile for their customers.

Peugeot 208 GTi
We find out if Peugeot has created a worthy successor to the 205 GTi.