TODAY marks the end of 68 years of production of arguably the world's most beloved 4×4, as the last Land Rover Defender rolls off the production line at Solihull.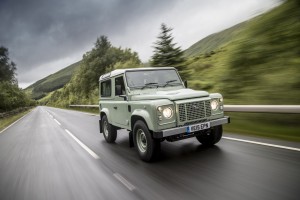 Since production of the original Land Rover Series began in 1948 at the midlands plant, more than two million Defenders have been built and exported across the world.
With stricter measures for new car emissions set to be introduced by 2020, it's highly unlikely that the famous Defender will be able to meet the regulations. Therefore, Jaguar Land Rover had no choice but to discontinue the trusty off-road warrior.

Simon Collins, Warwickshire and West Midlands Land Rover Club secretary, told the BBC: 'It's the death of an icon.'
However, with approximately 70 per cent of Land Rover products ever built still on the road, the Defender won't be disappearing from our lives altogether.
The original Defender's legacy is set to live on in a modern reincarnation with the firm developing a new model which will be revealed in 2016.
MORE: Interview: Meet Mr Land Rover

MORE: JCT600 hands over first BMW i3 at BMW Bradford
MORE: Carwow celebrates one million users ahead of CDX16
On SuperUnleaded.com: A Grandad With A Heavy Right Foot? Nope, It's 'Pranking' Petter Solberg In Disguise