Mazda is fast tracking plans to offer a fully online new car buying service in the light of the coronavirus pandemic.
Up to now, Mazda has offered various online services for used cars and test drives, but hasn't been quick off the mark in offering a full end-to-end service like some of its rivals.
But Mazda UK is applying pressure on Mazda Europe to bring to market an online buying feature, with UK bosses saying coronavirus has fast tracked plans for one and it will be arriving soon.

'Our new car business was pretty much non-existent in April,' Mazda UK sales director, Peter Allibon, told Car Dealer Magazine in an exclusive video interview (above).
'We haven't got an online buying solution for new cars – an end-to-end and click-and-collect process. In April we had very few registrations and in May we had a few more.
'Mazda UK has wanted an online selling solution for some time, but it needs to go into the priorities of Mazda Europe. Coronavirus has certainly accelerated that and we are now working on a full end-to-end system and it'll come in phases.
'It's been accelerated not least because customer behaviour has changed, but also because we need to protect ourselves from a potential second wave of coronavirus.

'We need to make sure we are available and have that service for customers and dealers looking to serve customers if we are in another lockdown situation.
'We are grabbing this opportunity to elevate the importance of it within our European team.'
The news will undoubtedly be pleasing to the Mazda dealer network as it comes out of lockdown in a better shape than forecast.
Allibon revealed that while 46 per cent of its network have more than 35 per cent of its workforce on furlough, the network hasn't been hit financially as badly as anticipated and there are promising signs.
'We've found that very few customers have cancelled their orders – about 10 per cent of March cars have been cancelled, which is good news,' said Allibon.
'Web traffic has been above pre-lockdown levels, too – whether that's been on the configurator or the dealer locator.'
Allibon did reveal that the level of new car enquiries by customers in June has been lower than the usual level for the month, but importantly dealer margins have held firm.
'We need to see enquiry levels pick up as more showrooms open,' he said, 'but as non-essential retail re-opens, I think it will normalise.
'Our used car business has been very strong and I think that's because there is a bigger online sales presence.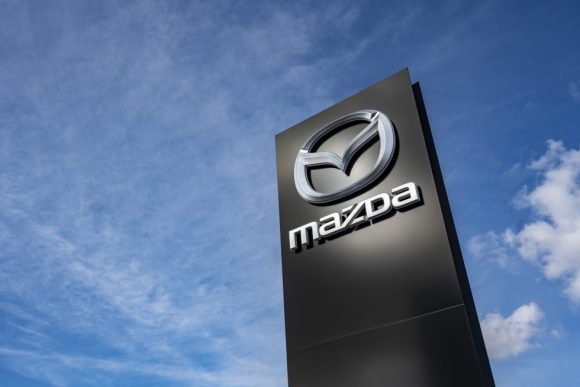 'It's been a key reason why the hit on dealer margins in April and May has been less than was forecast – it's still a loss but it's less than was expected.'
Now the challenge is on to keep positive and offer customers a tempting offer to buy new in September.
'Coming out of something like coronavirus you would want to have time to reassess things and not sink costs into things when that market may not be there,' Allibon said.
'But can we afford to do that and potentially lose out on a strong September? No, we need to try and look at things positively.
'Coronavirus won't have affected everyone's finances negatively, there will still be a new car market – the used car market has shown that customer sentiment is relatively positive.
'We've got to give customers the reason to buy in September. Many customers, I think, are considering leaving it a while, watching how things pan out and seeing whether there's a second wave.
'We need to do our best to maximise interest in new cars over the coming months, not least we've all got a lot of product sitting in compounds and we need to use September to try and wash through some of that.
'I'm not saying it's any major issue but we'd certainly be well advised to put our best foot forwards and ensure we've got an attractive customer offer.'