Big Motoring World boss Peter Waddell will launch his online used car dealership Carzam on September 1 with a stock of 4,000 cars – and he's betting £50m it'll be a success. 
Along with business partner John Bailey, former president of Cox Automotive, the pair will pump £50m of their own cash into the new online car sales business.
In an exclusive video interview with Car Dealer Magazine, the larger than life car dealer boss picked us up in his own helicopter, showed us around his incredible house and supercars, before flying us to Peterborough to see a new preparation centre that will churn out 350 cars a day.

Waddell and Bailey gave us the inside line on the online used car business they feel will shake up the used car market and tell us why they think they'll be the ones to finally crack it.
In the exclusive video interview we find out:
Why they feel buyers are ready to move online for used cars in their droves
How they are already gearing up for the start with a huge preparation centre
What they really think of similar online businesses, like Cazoo
And how technology and distribution hubs will be the key to their success
Waddell doesn't do things by halves. 
In his recent Car Dealer Live interview he explained how he started life on the streets and watching 'flash cars' drive past him gave him the determination to succeed.

'I'd see people drive past in Mercedes and think "why are they driving that and not me?" and it was then I realised I had to do something about it,' Waddell explained.
And do something about it he did. 
We'd just landed on the lawn of his incredible multi-million-pound home on the outskirts of London. When Waddell agreed to this interview he offered to pick us up from Gosport – little did we know he meant by helicopter.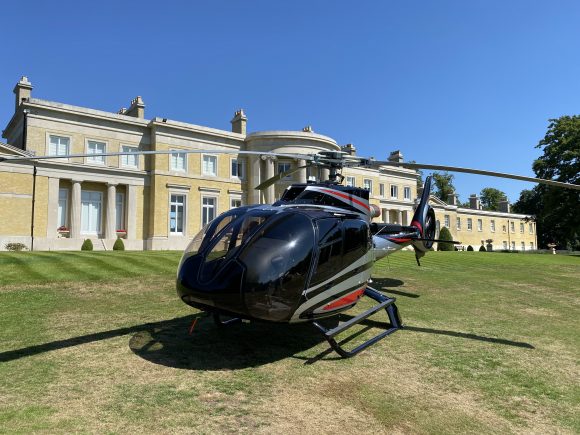 Waddell sent a new AgustaWestland 139, that he was thinking of buying to replace his current chopper, to pick us up. Ever the wheeler dealer and always pressed for time, Waddell was using the flight to Gosport-his home-Peterborough and back to road test the new purchase.
'I'm dyslexic and learning to fly the helicopter was hard, but I love it,' Waddell explained. 
'It saves so much time for me as I can visit my dealerships, the prep centre, auctions and my other business interests very easily.'
We take a seat in one of Waddell's luxurious lounges and he explains how he's recorded his best ever June. 
The reopening of dealerships at the start of the month saw buyers flock to his showrooms and he's now got just two per cent of his staff on furlough.
'We're having it off,' he says with a huge smile. 'We'll do 3,200 cars this month.
'The government paused an F1 race track with the lockdown. We're all still in the same place in the race. It's just been paused for 12 weeks.
'We were all very tired. The government gave us a break. I've spent time at home, I've had time to relax and now I'm raring to go. I'm fired up and ready to go again.'
As we wander around Waddell's incredible home he shows me his home office. It's covered in well-thumbed A3 print outs of his budget and he explains that he always has his busiest months in the summer.
'People come out of winter and realise then they want to upgrade their used car – we're always busy in the summer,' he says. 
'I don't buy this pent-up demand nonsense, and I don't think it will tail off later in the year. The used car market is strong and I don't see that changing, especially when less people will be buying new.'
Waddell says his success is down to keeping an eye on the detail. His phone is constantly ringing and lighting up with text messages and it's quite obvious he never stops.
Real time data from the number of sales, the profit he's made to the minute, and every tiny detail about the individual deals is accessible from his phone via a vast system he had built for himself.
He checks it regularly as we're walking around his house, flying at 3,500m above London or around his business. 'It's here where I make my money,' he says, pointing to his phone.
In his garage he shows me his Rolls Royce Dawn, Lamborghini Aventador and we've already walked past a 20-plate Aston Martin DBS Superleggera on his drive. 
'It's s**t,' he says. 'John said I should buy something classy, but it's useless.'
Then we turn to the hypercars. Waddell owns two Bugattis, a Veyron and a Chiron, combined worth more than £5m and he has another on order.
'I never drive them,' he says, admitting he prefers his Range Rover. 'One has just 800 miles on it.' 
Waddell's home is immaculate. The lawns manicured, the decor like a five star hotel. There are 54 televisions dotted around the vast stately home-style property, an indoor pool and a grand piano in the hallway that he can start playing from controls anywhere in the house.
In his 'Moet & Chandon' bar is a full size snooker table, another huge TV and more bottles of the champagne than I can count. From miniatures to Jeroboams, there's bathfuls of the stuff.
Waddell must really love champagne.
'I hate the stuff,' he laughs. 'I drink Asti Spumante – six quid a bottle.
'People buy me Moet as a present. I like the way it looks. I don't need anything or want anything so when people buy me a present, it's usually a bottle of Moet and then it ends up in here.'
We thank Waddell's wife, who is busy juggling looking after their two-year-old son while packing for a trip to their 130ft yacht in Monaco, for letting us intrude and head back to the helicopter.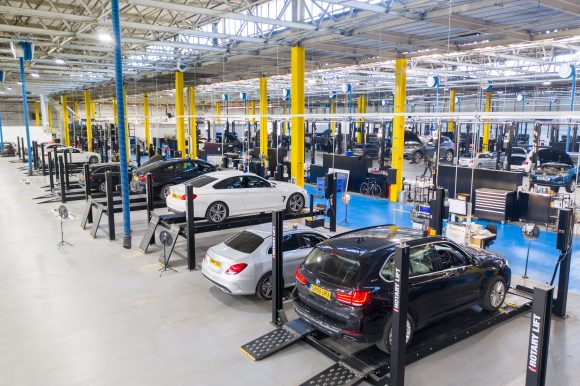 Within minutes of take off we're flying over London and landing in Peterborough 20 minutes later at his vast preparation centre.
The set-up is incredible, the former Pilkington Automotive engine factory has 14 acres of space inside which Waddell and Bailey have filled with ramps, paint shops and valeting teams.
They are currently serving Big Motoring World's six car dealerships and preparing 150 cars a day. 
Soon that will ramp up to 350 cars in a 24 hours a day operation that will pump thousands of cars into the Carzam business.
'Preparation costs are key to making the used car business a success – and that's the difference between us and our rivals,' says Waddell as we're shown around.
'I get a daily report on our preparation costs and we've got it down to around £270 a car.'
While the costs might be less, from what Car Dealer saw there is no scrimping on standards. 
Every wheel is refurbed, painted and recut at a rate of 26 every 20 minutes.
Whole panels are removed and painted to the highest of standards and any engine servicing work that needs doing is done on one of 72 ramps. 
The scale of the operation is mammoth. There are 12 MOT bays, 500 staff (soon to be 600) and this is with Covid-19 restrictions in place. Most of the employees we meet have come from BCA.
'We pay them well and they enjoy their jobs,' explains Waddell. 
And with that, as if it was timed, an employee walks over and hands the boss a Caramel chocolate biscuit. As we walk around Waddell knows everyone by name and they clearly like to chat to the boss.
He adds: 'This is what it's about for me. It's not about the money, it's about the staff. We're a family.
Currently we have to use every other ramp and the number of staff in here has to be reduced, but once restrictions ease it will only get busier,' 
Bailey tells us he thinks Carzam will sell 20,000 cars in the first year of operation and quickly ramp up to 35,000 cars a year.
'Peter sold 1,500 cars in May online via Big Motoring World – that was the tester for this and it worked,' Bailey said.
Waddell can turn a car around from purchase to being on sale in one of his dealerships in just 4.3 days. It is believed rival online used car dealers take 25 days plus to achieve the same thing as others outsource the preparation to partners.
Bailey adds: 'We have parts runners here who bring the parts to the technicians so they don't need to walk down the line to the parts office, stopping along the way to chat to the others and getting distracted.
'That could add 20 minutes to the operation and all that time adds up. By having someone bring them the parts we save time and money.'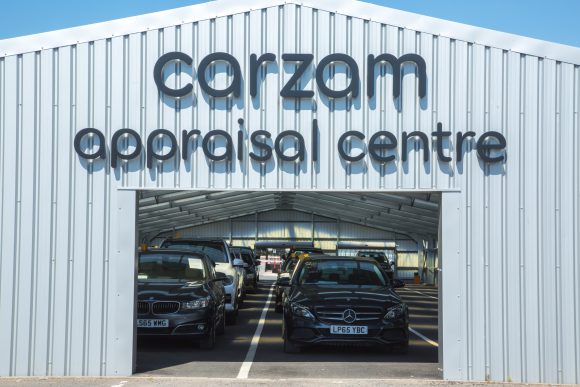 Waddell adds: 'This is what no one has. This centre is what it is all about. It's about attention to detail, getting the cars right.
'We are spending more on the cars now because they will be sold online. These may be used cars, but they are new to the person who bought them so they have to be right.'
And as I cast my eye over an 18-plate BMW 3 Series as it's checked to drive out the door, I honestly think it looks like new.
Bailey and Waddell admit they went round in circles thinking up the name Carzam – Waddell wanted to go for CarPal, but concerns over PayPal's lawyers put an end to that one. They eventually settled on Carzam.
'It had to have car in the name,' said Bailey.
The pair met while Bailey was still at Cox Automotive and Waddell was one of Manheim's big buyers. They got chatting and Bailey decided to take a minority stake in the business.
'I've seen a lot of businesses and a lot of prep centres in my time at Cox, but I can honestly say I've never seen anything like this,' said Bailey. 
'We've had franchised dealers in here and two to three bosses of plc dealer groups and they've all been blown away.'
So how will Carzam work? 
Waddell says it is quite simple and has coined the phrase 'the mouse to the house', or in his famous twang 'the moose to the hoose'. 
'Carzam is high tech business,' he explains. 'We've been building the website for a year and it'll go live on September 1. Buyers will be able to buy online and get the car delivered the same day.
'We'll do this with distribution centres. We'll launch with 3-4,000 cars on sale and can do that because we can offer the stock from Big too.
'We'll do it quicker than anyone else. We are faster and better and importantly we know the job. We know the car trade.
'I don't just talk, I just do. We're not spending anyone else's money here, we're spending our own.'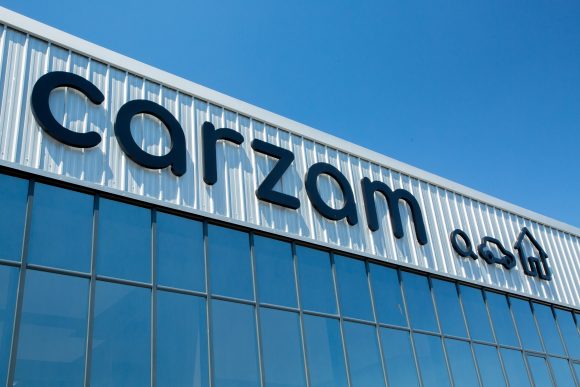 Bailey said that they're confident buyers want to purchase used cars online now and that is a trend that's only going to increase in the coming years.
'Lockdown has accelerated the move to online buying for cars,' Bailey explains, as we sit around Waddell's boardroom table. 
'We are so excited about Carzam. People are ready to buy used cars online and they're doing it now. We'll offer them the chance to do that via people who know the car business.'
Selling vast numbers of used cars is also about making sure you can get hold of the stock and while the pair remain tight-lipped about their sources for cars, they're clearly confident they can get more at a time many dealers are fighting over them at auctions.
'This will work because we're car people,' added Bailey. 'We know what to buy and importantly what not to buy.
'We know what the car buyer wants too. Cazoo has cash, it has marketing experience but it doesn't have expertise.'
Just days before we met Cazoo had announced yet another round of investment, this time £25m was pumped into the business. The funding meant Cazoo was valued at a reported £800m.
Waddell added: 'We know rivals are spending too much on preparation costs, they're buying the wrong things and their delivery is costing too much. We won't make those mistakes.'
In the car park of the £14m preparation centre, Waddell has his trucks already lined up to start home deliveries. 
Customers will be offered the chance to have the used cars delivered to their homes or they will be able to pick them up from one of the Big dealerships or a distribution hub.
Waddell says they are planning to allow buyers to arrive and use fingerprint or facial recognition to give them access to the keys at the site and a video handover will be played to them.
'We're testing some very exciting things – right now it's a case of watch this space, but believe me we're serious about online used car sales,' he added.
The online used car dealer world is likely to be a very competitive place. 
While Cazoo may have got the head start, there would be few who would bet against Waddell and Bailey. 
The pair make a formidable team with expertise in all the fields you need to make a large used car business a success. One thing's for sure, watching this battle play out is going to be very interesting indeed.
Photos and video: Nigel Swan, OnCue Communications. if you need video work for your dealership contact Nigel on [email protected]
This feature was originally published on July 1, 2020