MERCEDES-BENZ has unveiled its new five-seater C-Class saloon and estate, with a reworked interior and sleeker stylings.
The German brand's best-selling car has been updated externally too, including redesigned bumpers to give the car a fresher look and new lights that Mercedes says 'define' the car.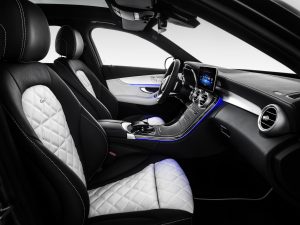 Inside the cabin an infotainment display can be configured in the lower-spec 'Audio 20' form with a seven-inch screen, or upgraded to a 16:9 layout widescreen configuration, with a 10.25-inch panel.

A fully digital instrument panel is also available as an option, with a 12.3-inch diagonal display.
For every day ease of use, keyless-go starting and wireless charging is standard. As in its E- and S-Class sister models, some of the infotainment functions can be controlled through touch-sensitive panels on the steering wheel too.
The cabin also gets 'Energizing Comfort Control'. This is a system which uses the air-conditioning, including scents, seat heating, ventilation and massage functions to improve driver wellbeing.
If all of the top of the range displays aren't enough for you, there's also the optional smartphone integration, which supports Apple CarPlay, Android Auto and MirrorLink, that can be added.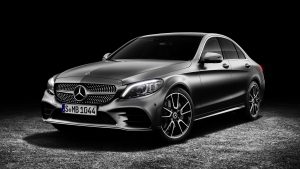 Those opting for the AMG-Line spec will get a diamond-pattern grille insert, along with other soon-to-be-announced features.
The C-Class' current generation – now in its fourth year – is the German brand's most popular car, and this new model will look to push sales even further as it combines 'emotionality with intelligence', the firm says.
The car is also able to drive semi-autonomously in certain situations, with an improved camera and radar systems allowing it to see up to 500m ahead.
Other new tech includes active lane change assist and active emergency stop assist as new functions of active steering assist.
UK pricing and specification will be revealed at the end of March, with first cars arriving from August 2018.
MORE: City Auction Group introduces Vauxhall Finance at Rockingham
MORE: 300 apprentices given the opportunity to join Arnold Clark
MORE: Aston Martin St. Athan: Phase one of construction now complete
On Workshop Magazine: Dragon2000 announces free GDPR guidance events