THE UK's 12 official Ferrari dealers are to celebrate the Prancing Horse's 70th anniversary as a grand summer tour takes in high-profile locations.
A series of events and parades will be held, headlined by the limited series LaFerrari Aperta, pictured at Windsor, which is also the highlight of Ferrari's presence at the Goodwood Festival of Speed from June 29 to July 2.
After its starring role at the Festival of Speed, the LaFerrari Aperta will be travelling around the official Ferrari dealer network throughout July and into August, where fans will be able to see the exclusive car as part of a display of Ferrari cars showcasing the heritage, design and racing history of the automotive brand.

The final event on the LaFerrari Aperta's UK tour will be Ferrari Racing Days at Silverstone from September 22 to 24, where the car will lead a parade of iconic and historic Ferrari cars around the British Grand Prix circuit. Ferrari Racing Days is the UK round of the Ferrari Challenge European Series, in which the 458 Challenge makes its final appearance alongside the 488 Challenge, which will run solus in the Ferrari Challenge in 2018.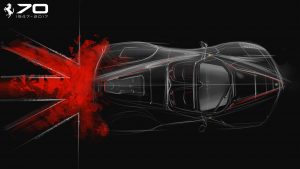 The tour details are as follows:
July 5: Spinnaker Tower, Gunwharf Quays, Portsmouth, Hampshire, 2pm to 4.30pm – Meridien Modena, Lyndhurst
July 9:  Plymouth Hoe, Barbican, Plymouth, Devon, 1pm to 4pm – Carrs, Exeter

July 11:  Blenheim Palace, Woodstock, Oxfordshire, 9am to 10am – Dick Lovett, Swindon
July 15:  The Long Walk, Windsor, Berkshire, 12pm to 2pm – Maranello Sales, Egham
July 20: Surprise location in central London to be announced, 11am to 1pm – H.R. Owen Sports Cars, Kensington
July 22: Bond Street, Chelmsford, Essex, 2pm to 4pm – Lancasters, Colchester
July 25:  Belvoir Castle, Grantham, Lincolnshire, 2.30pm to 5.30pm; Theatre Royal Concert Hall, Theatre Square, Nottingham, 7.15pm – Graypaul, Nottingham
July 28:  Victoria Square, Birmingham, 12.30pm to 4pm – Graypaul, Birmingham
August 1:  Capesthorne Hall, Congleton Road, Siddington, Macclesfield, Cheshire, 2pm to 4pm – Stratstone, Manchester
August 4:  Roundhay Park, Mansion Lane, Leeds, West Yorkshire, 1pm to 5pm – JCT600 Brooklands, Leeds
August 8:  Holyrood Palace, Broad Pavement Car Park, Queens Drive, Edinburgh, 2pm to 6pm – Graypaul, Edinburgh
August 12: The Ulster Folk & Transport Museum, Cultra, Bangor Road, Holywood, 2.30pm to 4pm; Titanic Slipways, Titanic Quarter, Olympic Way, Queens Road, Belfast, 4.30pm to 5pm; Hillsborough Castle, The Square, Hillsborough, Co Down, 5.30pm to 6.30pm –  Charles Hurst, Belfast
MORE: Supercar brokerage offers Ferrari FXX-K at £3.5m
MORE: H.R. Owen Ferrari shows us how to squeeze an F1 car into a showroom with no door
MORE: Ferrari shares soar on first day of Wall Street trading
On SuperUnleaded.com: Biker Knocked Unconscious At 140mph Suffers Just A Black Eye