What is it?
The family hatchback sector is under siege from SUVs but that doesn't mean it's dead – far from it. There's enough life in this sector yet that Kia has gone in all guns blazing with this – the all-new Ceed. Though it may come from a South Korean brand, the Ceed is designed, engineered, built and sold entirely in Europe, so in theory it should be perfect for European tastes.
What's new?
Let's get the trifles out of the way first – the new car loses the apostrophe of the old Cee'd and simply becomes Ceed: Community Europe, European Design. Easy.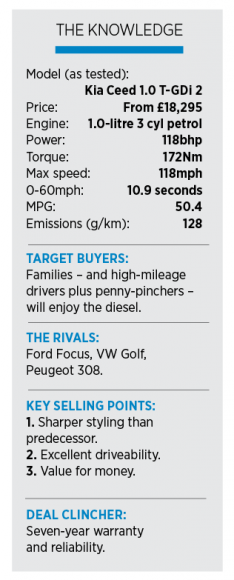 More noteworthy is the new bodywork, which is wider and lower than the outgoing car, although identical in length and wheelbase. The styling's sharper, there's a new LED daytime running light signature front and rear, and the cabin is now oriented towards the driver.

The only new tech to note is a host of safety improvements, including level 2 autonomous 'Lane Follow Assist', which can steer, brake and accelerate the car in traffic.
What's under the bonnet?
There is a choice of three petrol engines and a lone diesel. Kicking off the range is a naturally aspirated 1.4-litre petrol, which is likely to be best suited to town use, given its measly 99bhp output. We'd opt for the middle ground: a 1.0-litre turbocharged three-cylinder that puts out 118bhp.
What's it like to drive?
Kia has invested heavily in making the Ceed drive as well as its rivals – and with a talented team including ex-BMW M division engineer Albert Biermann, the transformation is remarkable. The Ceed feels confident in the corners, staying flat and gripping well. The nicely weighted steering rack is intuitive, making smooth cornering easy, and it pairs well with the willing engines and slick manual gear change. The caveat is a slightly firmer ride.
How does it look?
At first glance, the Ceed is a little disappointing – imagine averaging out the differences between a Ford Focus and Vauxhall Astra. Step closer, however, and smart details do start to make themselves known. Bold LED daytime running light signatures feature front and rear, and the front end has the latest 'Tiger Nose' grille.

What's it like inside?
Inside is classic contemporary Kia – which brings with it some pros and cons. On the plus side, everything is fantastically intuitive, with controls exactly where you'd expect them and an infotainment system that, despite not being the newest or shiniest, remains one of the easiest to use in the business. However, there's no denying that it's all a bit black and basic in there.
What's the spec like?
High equipment levels are a major pull factor for first-time Kia buyers, and the brand hasn't disappointed with the new Ceed. Eschewing entry-level '1' trim in the UK, the range kicks off with '2' trim, which features a seven-inch infotainment display with Apple CarPlay and Android Auto, Bluetooth, automatic lights, keyless entry and a raft of standard safety equipment, including autonomous emergency braking, high-beam assist and blindspot monitoring.
Spec up and you'll gain lane follow assist, which can drive the car itself in traffic, as well as a great JBL-tuned stereo. Pricing isn't quite such a bargain as the previous car, but it's still low considering the level of standard equipment.
What do the press think?
The Telegraph said: 'It's OK, but far from outstanding.' What Car? said: 'It's one of the most comfortable family hatchbacks around.'
What do we think?
The Ceed has come of age and in the process become a seriously good C-segment hatch. It's good to drive, wonderfully roomy and, with that class-leading seven-year warranty, a good option for private buyers who keep their cars for a long time.