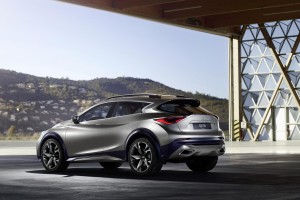 THIS is the first glimpse of Infiniti's QX30 Concept, which will have its world premiere at the Geneva International Motor Show next week.
The crossover concept hints at a future premium compact vehicle.
The QX30 Concept combines the sleek lines of a coupe with the distinguishing features and higher stance of a crossover.

Alfonso Albaisa, Infiniti's executive design director, said: 'The QX30 Concept has been designed to make occupants feel safe and protected inside, and customers can drive in or out of the city without worrying about nicks to the chromework.'
The designers have given QX30 Concept a more pronounced aluminium-trimmed bumper up front, while rounding up the rear with a tough skid plate sculpted with nuanced graphics.
It has 21-inch wheels and larger profile tyres. The spokes are a unique mix of three-dimensional milled aluminium finished in different tones which interlock in a distinctive manner.
QX30 Concept will be officially unveiled on March 3.

MORE: Showroom staff's version of Uptown Funk
MORE: Sales of £3m at City Auction Group's first event at Rockingham
MORE: Free to download to your iPad – issue 84 of Car Dealer