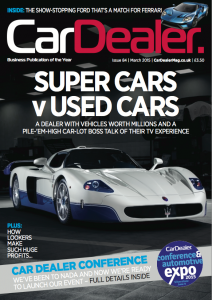 THE latest issue of Car Dealer Magazine is ready to be downloaded to your iPad – FREE of charge.
Issue 84 of the Best Business Publication of the Year is packed with not-to-be-missed features, plus the very latest news and views from the automotive industry.
James Baggott reports from NADA, the world's biggest expo for car dealers, which this year was held in San Francisco. We picked up plenty of tips for our own conference and expo, which takes place at Silverstone on June 9.
Also in issue 84:
Editor Colin Channon takes a look at Lookers…. and finds out what the future holds for the company whose annual profits topped £90m recently.
We meet the dealers who took part in the recent TV show Super Cars v Used Cars: The Trade-off, to find out if the stars of the show think they were fairly portrayed.
And we pick six of the most stunning new cars on display at the Detroit Motor Show.
As usual, Issue 84 also features thought-provoking contributions from our regular columnists and there's the usual helping of invaluable legal advice from Lawgistics.
The iPad app is completely FREE to download and subscribe to.
MORE: New Aston Martin dealership to open near Reading
MORE: Car Dealer Power – time is running out!