WE asked for you to show us examples of how cars can be used for anything other than getting from A to B.
And you have sent us some amazing pictures, with vehicles being used as refreshment areas, reception areas, and as a bar in a pub…
And then we received a tweet from Auto Trader. Don't forget us, they cried….

How could we forget you? You've got to have the coolest offices around.
There's the cars on the walls….
…the pool area and table football…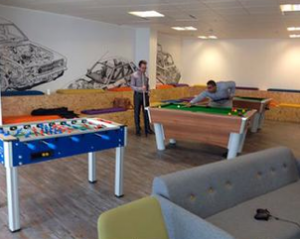 ….and great doors into meeting rooms…

Note to our boss: we have a very nice pool table in Car Dealer Towers. Now, can we have another pool area please – a 25-yard long pool, with an accompanying sauna and jacuzzi, should do the trick…
MORE: Rolls-Royce to enter SUV market
MORE: First look at Hyundai's new mid-size SUV Tucson
MORE: The UK needs an expo as good as NADA's – here's how we plan to deliver it