HERE is the first look at Hyundai's new mid-size SUV, the Tucson, which was unveiled in Germany today.
Hyundai says it is not a replacement for the ix35, and that its an entirely new car in its own right. It will be unveiled in full at the Geneva Motor Show in early March.
Inside, the cabin will be spacious and will be made with quality, higher-grade materials.

Tony Whitehorn, the president and CEO of Hyundai Motor UK, said: 'The All-New Tucson is a bold new car that represents another leap forward for Hyundai.
'With a fantastic design and advanced technologies, it makes a strong statement about where the Hyundai brand is heading and provides a highly-competitive vehicle in the important C-SUV segment.'
The All-New Tucson will be of high importance to Hyundai's business in the UK, as the C-SUV segment accounted for 20.5 per cent of the company's sales in 2014.
Hyundai says of its new vehicle: 'The front of the All-New Tucson is dominated by the Hyundai signature hexagonal front grille, which connects with the LED headlamps to create a distinctive face.  The front bumper features a wing-shaped appearance, which incorporates the LED daytime running lights, giving the car a unique style and provides a visual reference to its wide track.

'In moving the A-pillar back from its conventional location, it becomes visually disconnected from the long bonnet, accentuating the sleek profile. The directional shape of the wheel arches contribute to the agile and dynamic appearance, even when stationary, while the expressive 'Z' character-line above the rear wheel arches creates a sculptured side profile and a powerful stance. The rear has a clean design with horizontal lines that flow from the rear wheel arches and accentuated by slim tail lights.
'New convenience features offered with the All-New Tucson include heated and ventilated front seats, with longer seating cushions for enhanced support and comfort. A smart powered tailgate (which opens at the approach of the key-holder) and Smart Parking Assist System (SPAS) with parallel and bay parking function both increase everyday usability.
'The new-generation navigation system is more than three times faster than the previous version fitted in other Hyundai models and comes with a seven-year free subscription to TomTom LIVE services.'
It will be available with two petrol engines – 135 PS (1.6-litre GDI) or 176 PS (1.6-litre T-GDI) – plus three diesel options, 115 PS (1.7-litre), 136 PS (2.0-litre standard power) or 184 PS (2.0-litre high power).
The new turbocharged 176 PS 1.6-litre T-GDI engine can be paired with either a seven-speed dual-clutch transmission (7DCT) or a six-speed manual. All engines will meet Euro6 emission standards.
After making its public world premiere in Geneva, the All-New Tucson will go on sale in Europe during the second half of 2015.
See a video of the new car here: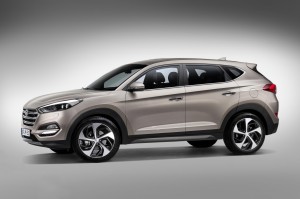 MORE: The UK needs an expo as good as NADA's – here's how we plan to deliver it
MORE: Mechanic caught on camera taking customer's car for a joyride
MORE: Former Chevrolet boss lays out his plans for Motor Codes