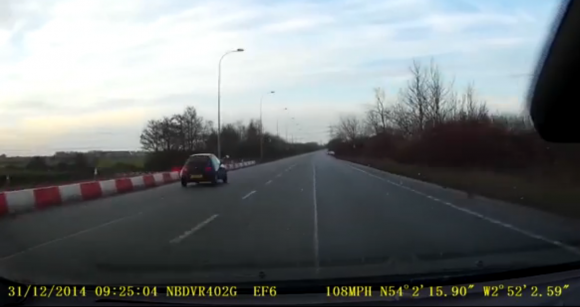 A MECHANIC from a Ford dealership in Morecambe was caught on camera recklessly driving a customer's car and hitting 118mph.
Wayne Clinning, 42, from Heysham in Lanacashire had noticed his Ford Focus ST lost half a tank of fuel when he took it in for a service at Pye Motors, so decided to turn on his dashcam when he returned for further repairs
When he watched the footage back he was horrified to find a mechanic had taken it out for a joyride. Click the video below to see for yourself as the employee drives at 56mph in a 30mph zone, up to 84mph in a 40mph zone and 118mph on a 60mph road.

Clinning said: 'They have violated my trust, joy ridden my car and lied to me,' as reported by the Daily Mail.
He added: 'They were just using and abusing my car, flooring it up and down the motorway. I bet this happens all the time and they keep getting away with it.'
Pye Motors have said this is an isolated case and dismissed the apprentice involved.
Director Helen Morley-Pye commented: 'Pye Motors have been trading for over 90 years and as a company we have always prided ourselves on our customer care and service. It was brought to our attention by a customer that he had footage of a member of staff driving his vehicle in excess of the speed limit, taken from a camera in his car.

'As a family business, we treat any allegation extremely seriously, and the matter was duly investigated. We apologised immediately to Mr. Clinning for the distress caused and we had believed an amicable arrangement had been reached. The apprentice involved was duly disciplined, and dismissed as soon as the facts of the event could be accurately established.
'We are deeply saddened by the reckless behaviour of one member of staff and his irresponsible actions have impacted on his own career, undermined the other 130 employees whom carry out great work on a daily basis, and brought the reputation of this company into disrepute.'
She added: 'We cannot comment on what action the Police might take, but we shall give them our full co-operation should they decide to investigate the incident. We have of course taken steps to ensure that this isolated incident cannot be repeated again.'
MORE: Monday at 8pm is peak time for the search for a new car
MORE: Car Dealer Conference & Automotive Expo 2015 – The Details
MORE: Volvo hoping to sell 4,500 all-new XC90s in the UK this year