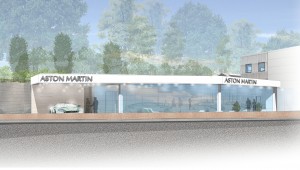 A NEW Aston Martin dealership is to open in Pangbourne near Reading – and it will become HR Owen's second Aston Martin location in the UK.
The dealership is currently mid-way through its construction and will complement the group's existing Cheltenham business.
Featuring one of Aston Martin's luxurious new and pre-owned showrooms, a dedicated aftersales team and a workshop staffed by world-class Gaydon-trained technicians, both current and future Aston Martin customers from the surrounding area can be assured of the highest levels of customer service.

The site, which is close to both the M40 and M4 motorways, adds to HR Owen's impressive nationwide dealer network and is already open for customers looking to service their cars.
The full dealer facility suite will be operational from March 12 following an official opening.
Marcus Blake, Aston Martin's general manager for the UK and South Africa, said: 'I am delighted to welcome HR Owen Reading to the Aston Martin UK dealer network.
'Aston Martin strives for the highest quality in its sales and aftersales teams and this purpose-built location will continue to deliver the exceptional service our customers demand. HR Owen's decision to extend its involvement with Aston Martin underlines their commitment to our brand.'

Mamad Kashani-Akhavan, chief executive of HR Owen, added: 'We pride ourselves on selling the finest cars in the world, and the chance to sell more Aston Martins is an opportunity we're delighted to have been offered.
'The performance of our existing business at Cheltenham, and the loyal customer base we've built over the years, is something we intend to replicate at our Reading site. The team and I look forward to welcoming Aston Martin owners in the area into the HR Owen family.'
MORE: Car Dealer Power – time is running out!
MORE: Women drivers break the speed limit more than men