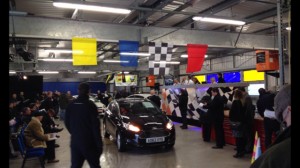 CITY Auction Group reports its inaugural auction at Rockingham was a huge success, achieving total vehicle sales of £3 million – and with an average fleet price of £8,000 per vehicle.
More than 100 franchised and independent dealers attended the auction earlier this month.  City Auction Group figures show eight per cent of the vehicles were bought by dealers in attendance, while 20 per cent were bought via the firm's smartphone app.
Eighty per cent of vehicles achieved in excess of 97 per cent of CAP, while 20 per cent of vehicles achieved over 94 per cent of CAP. More than 400 vehicles were sold on behalf of 25 corporate vendors including Lex Autolease, Semalease, Peugeot & Citroen Financial Services, Avis and Budget and many more. 

The physical auction was supported by an IOS/Android live bid and auction app for smart phones and tablet devices. A dedicated soft-seated live bid lounge was also used for the first time.
Michael Tomalin, the managing director of City Auction Group, said: 'We are delighted with the success of our first auction at the new super centre at Rockingham. We have received fantastic feedback from dealers and vendors alike, who have been deeply impressed with our new operation in the UK.  The auction attendance surpassed our expectations and we expect that are next auction in March will be even bigger and better.'
Brett Paterson, the general sales manager at Ballyrobert Vauxhall, said: 'We were very impressed with City Auction Group's first auction at Rockingham. It is a great central location and the facilities are superb.
'There was an excellent range of quality stock for sale and the highly-detailed information available on each vehicle was very useful. We were extremely impressed with the firm's slick and professional auction process.

"We purchased 23 vehicles at the auction which were in great condition, so we will be sourcing cars from City Auction Group from now on.'
The next auction event is at 10am on Thursday, March 5.
MORE: Download issue 84 of Car Dealer MAG – and it's FREE
MORE: New Aston Martin dealership to open near Reading