THE Ford Ka was the fastest-selling used car in the UK last month, according to Auto Trader.
Examples of the car from 2016 with a petrol engine and a manual gearbox took an average of 17 days to sell in October. This is the first time a Ford has come first in the national top 10 since November 2016, when the Galaxy held the top spot for three consecutive months from September to November.
Following the Ka to take second place was the 2016 diesel automatic Peugeot 3008, with an average selling time of 18 days. The 2015 petrol manual Kia Sportage came third, taking an average of 19 days to sell.

The rest of the top 10 list includes the 2014 Toyota Aygo, the 2015 Volvo V40 and the 2015 Vauxhall Viva. You can see the full table below.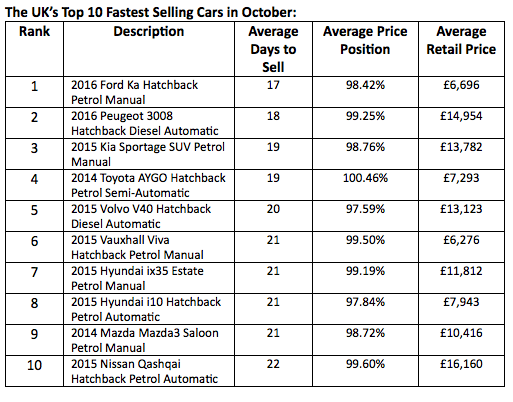 Across different areas of the UK, October was a hugely popular month for hatchbacks, with models such as the Renault Zoe, Seat Ibiza and Volkswagen Polo topping regional lists.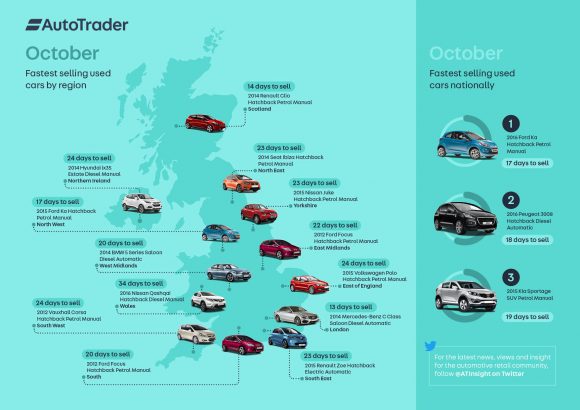 Karolina Edwards-Smajda, retailer and consumer products director at Auto Trader, said: 'While Fords make a regular appearance in the national and regional top 10s, it's great to see a Blue Oval take the national top spot again after a short hiatus.
'Knowing which cars will prove popular is key to identifying future sales opportunities.

'Retailers using data management solutions to complement their own expertise are not only able to determine which cars are the most desirable in their area, but also make informed decisions on how to price them based on the live retail market, helping them to sell more cars, more quickly and for more profit.'
MORE: Auto Trader head of motor finance takes up new role at Contract Hire And Leasing
MORE: Auto Trader takes step towards offering consumers complete online finance
MORE: Auto Trader extends partnership with Codeweavers
On SuperUnleaded.com: Lotus reveals yet another special-edition Exige