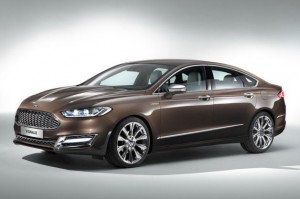 FORD has unveiled an all-new premium sub-brand.
Called Vignale, the sub-brand is aimed at discerning customers and the first car to wear the badge will be based on the forthcoming new Ford Mondeo.
With Vignale, Ford plans to deliver its customers 'with an ownership experience, rather than just a product'. The Blue Oval says the brand will have an up-market appearance both in the car and in dealerships.

Vignale customers will receive personal and quality service from individual sales advisors and a suite of exclusive services.
'Vignale will allow customers to engage with the manufacturer and enable the brand to stage experiences for each and every one of its customers,' said vice president marketing and sales, Ford of Europe, Roelant de Waard.
'Vignale is aimed at the 10 to 15 per cent of customers who want a higher specification and will be more willing to pay for the product after they have experienced it. Our customer demand will be met by the launch of Vignale.'
He added: 'Ford is offering customers a premium experience but not at a premium price. There will be a dedicated website to Vignale and customers will benefit from a personal consultant or advisor throughout the course of their buying experience.

'Vignale dealerships will be able to provide customers with a Vignale lounge where they can view and touch materials and will receive a lifetime carwash and vacuum service.'
Ford says the launch of Vignale responds to its customers' need for time-saving services and reflects demand for Ford's high-end products.