GLYN HOPKIN has increased its investment in the Groupe Renault franchise with the completion of a state-of-the-art dealership in Colchester and the opening of a further site in St Albans.
The development comes just months after it joined the Renault franchise with the establishment of its inaugural Renault and Dacia dealership in Chelmsford. The opening of two extra dealerships by one of the south-east's biggest and most successful automotive retail groups adds even more strength to the rapidly expanding Renault dealer network.
Glyn Hopkin has ploughed £1.2 million into its new Colchester dealership in Wimpole Road, completely remodelling the near-one-acre site over six months. The extensive work has resulted in a spacious 12-car showroom featuring the latest Renault Store showroom design, a standalone seven-bay workshop with dedicated MOT test lane, and an exterior that boasts electric vehicle charging points and enough room for 50 Approved Used Renault and Dacia vehicles.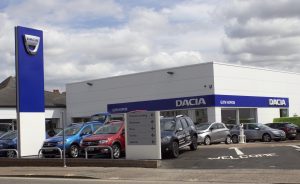 More than 20 jobs spanning all areas of the business have been created through the opening of Glyn Hopkin Renault and Dacia Colchester.
Before the opening of the all-new dealership, Glyn Hopkin represented Renault and Dacia in Colchester from a temporary facility, which it opened earlier in the year. The group quickly followed this with its Renault and Dacia dealership in St Albans, which is currently operating from an interim facility in Lyon Way while Glyn Hopkin considers its options on site and on other sites in the region for another state-of-the-art dealership.
Fraser Cohen, the managing director of Glyn Hopkin, said: 'Our Chelmsford dealership has far exceeded our expectations and targets, so from that respect it made sense to mirror this success with other sites.
'As a group, we always look to represent our brands at a multitude of locations, and opening Colchester and St Albans is a natural progression for us, especially as these are areas where Glyn Hopkin already has a significant presence geographically and our expertise is well recognised and established.'

Groupe Renault UK sales director Nick Tame said: 'To have a well-respected automotive group like Glyn Hopkin reaffirm its confidence in our brands with such a significant investment is a great illustration of how attractive our franchise is. We are exceptionally pleased that the performance of Glyn Hopkin's initial Renault and Dacia dealership has gone way beyond what even they, as a highly experienced automotive group, thought would be possible in such a short amount of time.'
MORE: Glyn Hopkin raises more than £15,000 at golf charity day
MORE: Staff at Glyn Hopkin accumulate 600 years of service
MORE: Glyn Hopkin reports record turnover and profits
On SuperUnleaded.com: Grand Tour Stopped From Using 'Beautiful' To Describe Namibia, But What Else Can't It Use?