GREENPEACE volunteers have stormed a ship in the Thames Estuary and seized thousands of Volkswagen diesel cars being brought into the UK.
The 'clean air campaigners' used kayaks to draw up alongside the huge car carrier in the Thames Estuary about 8.30am today and said they wouldn't disembark until VW committed to taking its cars back to Germany.
At the same time, more than 40 volunteers scaled fences at Sheerness port in Kent – the intended destination of the ship – and got into the vehicle park, where several thousand VW cars are awaiting distribution.

From above. Confiscating 1000s of diesel car keys. We are calling on @Volkswagen to take air pollution seriously https://t.co/N4P9mvsF02 pic.twitter.com/WSgV54SNG1

— Greenpeace UK (@GreenpeaceUK) September 21, 2017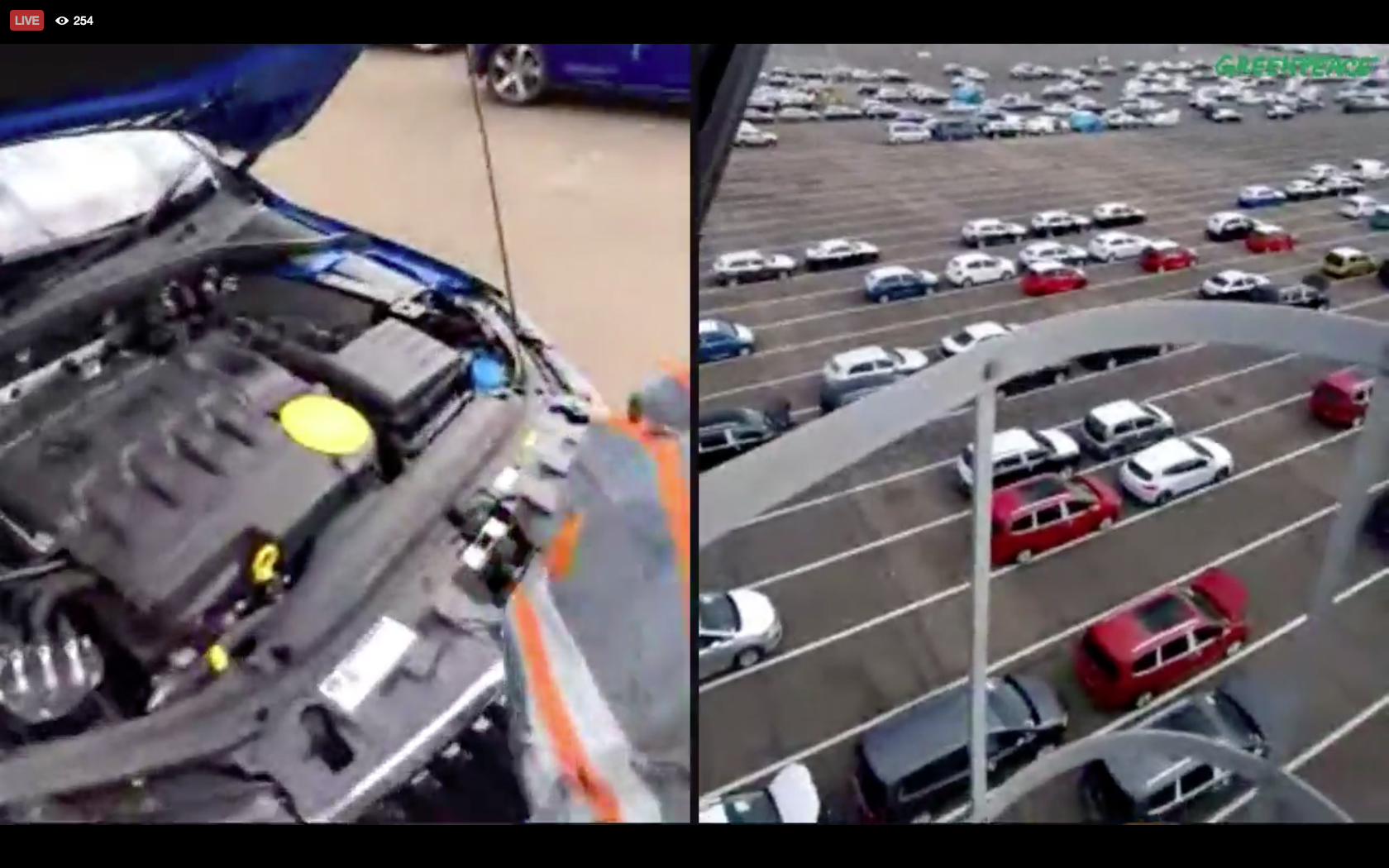 A statement issued to Car Dealer by Greenpeace said: 'Volunteers, including many mothers, fathers and people from all walks of life, are attempting to immobilise all of the VW diesel cars by removing the keys.
'They are also lifting the bonnets and labelling the engines with messages from 8,000 people, including many car owners, calling on VW to ditch diesel.'
Campaigners hung a 50 sq/m banner on the ship's unloading ramp showing the face of a two-year-old girl covered by an air pollution mask.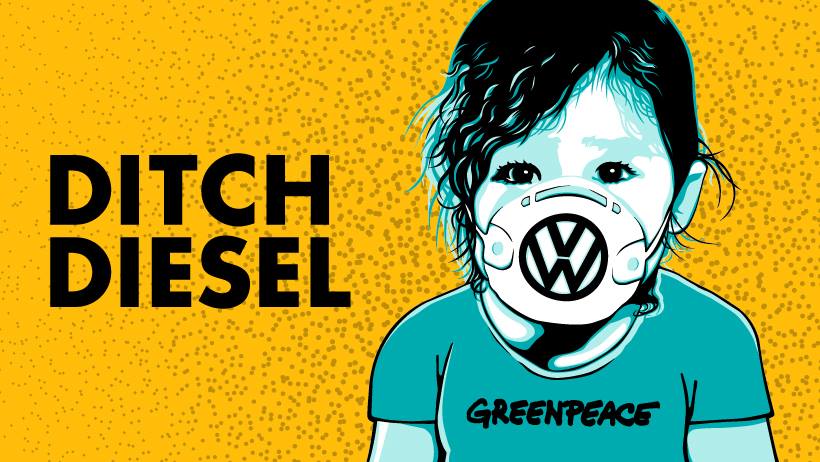 Greenpeace added: 'Sephie Ruan, who has respiratory problems, represents all children affected by air pollution. Pennant banners emblazoned with Sephie's portrait have also been hoisted on gantries surrounding the vast car park.'

.@Volkswagen need to face up to the harm caused by diesel cars polluting UK roads #standwithsephie #DitchDiesel – https://t.co/N4P9mvsF02 pic.twitter.com/S6JFpGt9UN

— Greenpeace UK (@GreenpeaceUK) September 21, 2017
In response, Volkswagen issued a statement this afternoon, saying: 'We are aware of a protest this morning at the Sheerness port in Kent. The ship contains a variety of Volkswagen Group vehicles, including petrol, diesel and plug-in hybrid models. The diesel vehicles, which are the subject of the protest, meet strict Euro-6 standards.'
The campaign was being live-streamed on Greenpeace's Facebook page, which is now showing a video of the incident. 
The Volkswagen diesel scandal first erupted back in September 2015 – two years ago this week.
The United States Environmental Protection Agency discovered a device fitted to Volkswagen's diesel engines, which detected when the cars were undergoing testing and artificially throttled back emissions controls.
As a result, cars that appeared to pass all necessary emissions testing in lab conditions were actually emitting up to 40 times the allowed amount of NOx (nitrous oxide) on the road.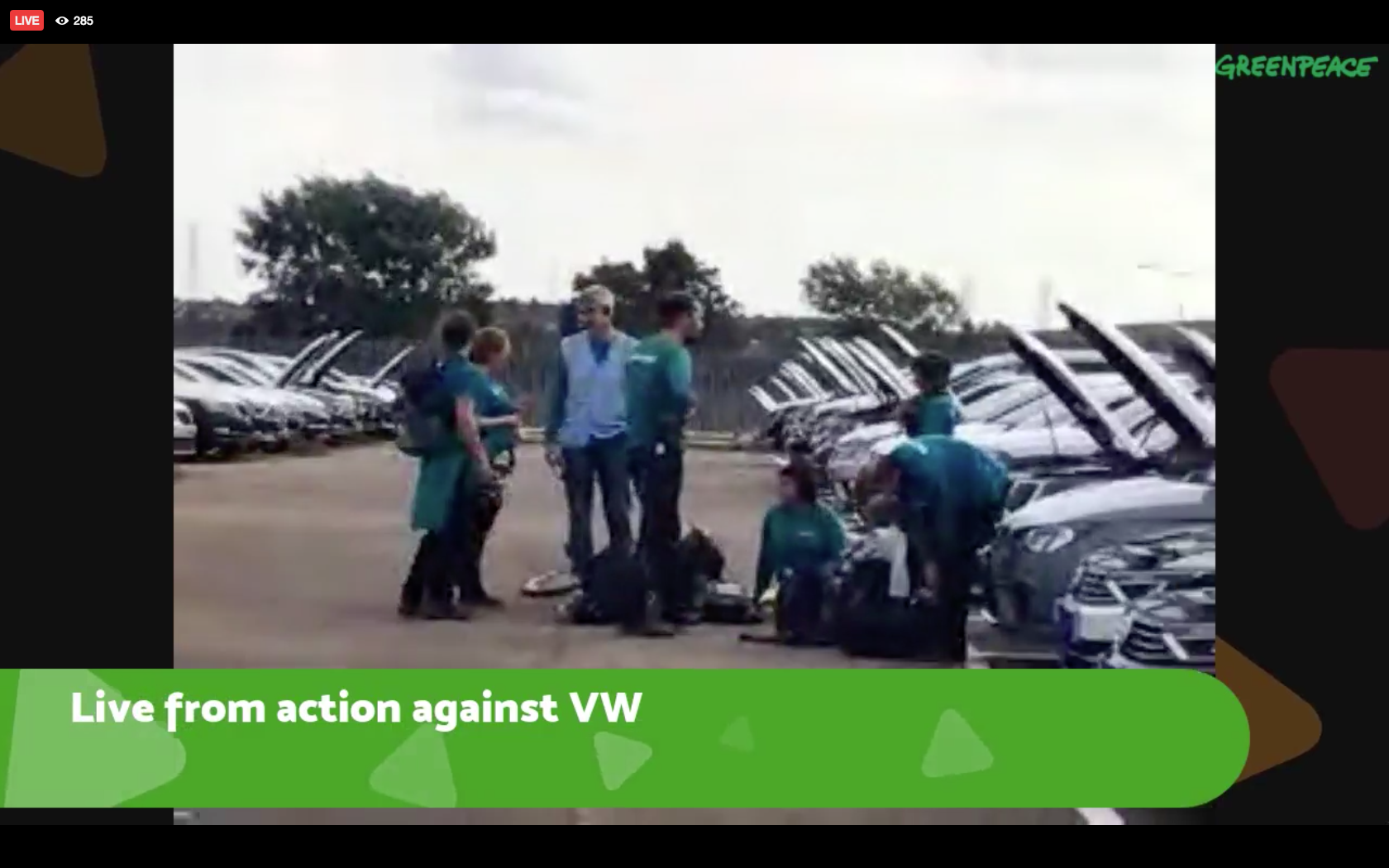 The scandal instantly went global, with Volkswagen admitting the deception in September 2015. Stock prices tumbled, car sales dropped and VW's CEO resigned.
Over the months that followed, the company attempted to make good on its deception, recalling more than 11 million vehicles worldwide to disable the defeat devices and rework the engines to bring emissions down to acceptable levels. It didn't just affect VW-badged cars – offerings from Audi, Skoda, Seat and even Porsche were all included as well.
In the US, the Volkswagen Group stopped sales of diesel-engined vehicles and offered a substantial compensation scheme. Customers could apply for a lump sum in exchange for trading in their vehicles. However, no such scheme was offered in the UK.
Main image: Kristian Buus/Greenpeace