From click-and-collect to end-to-end online car sales, the past six months have seen a sea change in the way dealers have to do business.
One of those new methods of selling is door-to-door test drives or home test drives.
Only a small proportion of dealers are offering them, but the ones who are doing it are reaping the rewards of satisfied customers and potentially winning their custom for years to come.

Here's our guide on how car dealers are offering home test drives.
Why offer home test drives?
Customers want them – it's that straightforward. From groceries to books, we Brits depended on door-to-door services during the height of the coronavirus lockdown, and there's no reason to suggest people won't want that to continue.
One manufacturer boss told Car Dealer Magazine recently the lockdown had made the automotive industry jump forward by two years in the digital arena – and home test drives are a key part of that transformation.
Many customers already expect car dealers to operate the same way as any other industry, and that expectation level is only going to get stronger in the years ahead.

It's not just the convenience factor that customers love either, it's also the peace of mind. If a customer can take the car on a short route around where they live or test the car over a weekend, they'll feel more comfortable doing that than having a quick spin around a trading estate.
How do they work?
Again, there's nothing difficult here – it's a case of driving a demonstrator to the customer's house, waiting for them to take it for a drive, then driving it back to the showroom.
There is more to it and we discuss it later in this feature, but essentially it's simply taking the test drive to the customer rather than relying on that customer, who you've chatted with on the phone, to come into the dealership off their own back.
If anything, it's sealing the deal.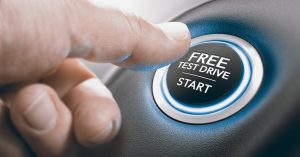 How do home test drives work?
The best and easiest way to offer a home test drive is to have a feature built into your website, much like features you've had to integrate already into your website such as live chat or request a call back.
Dealer group Sandicliffe has a booking form on its website allowing customers to take a home test drive on any new or used car.
But it can simply be a case of offering it to the customer while you're talking to them to get the deal over the line.
By offering a home test drive while you're speaking to the customer on the phone or via email or even when you're face to face, it can make the customer think you're going the extra mile to help them.
Lastly, tell customers in all your advertising and social media that you offer the service – a free 'home test drive' is a great marketing line.
How often should I offer a home test drive?
Home test drives are a great selling tool but we're not stupid. Offering home test drives to every customer who expresses an interest could soon rack up a lot of expenses and in some cases for little gain.
There's the time out of the showroom for the sales person to start off with, along with a number of other factors. Qualifying the customers should sort the wheat from the chaff.
Any success stories?
Holdcroft Nissan has had great success in offering door-to-door test drives. During the height of the coronavirus pandemic, Holdcroft's sales people would qualify the customer then drive the car to their home and, because of Covid-19 regulations, leave the keys and a video on a tablet showing the car's key controls.
Holdcroft normally allows customers a test drive that lasts an hour or overnight.
Are home test drives of cars safe?
In many ways, they're as safe as normal test drives in that you're entrusting a car with a customer whose driving style you're likely to be unsure of. Again, a lot of this comes down to thorough qualifying before the test drive. And as long as you follow your Covid-19 Secure cleaning regimes before and after the test drive you'll be fine.
What happens after a home test drive?
After the test drive and before the sales person drives the car back to the showroom, it's a good moment to find out whether the customer likes the car. Again, if you've thoroughly qualified the customer, the test drive will likely be the thing that seals the deal.
If the customer isn't so sure about that particular model or spec, it's good to offer another test drive in a version that's more suitable for them.
It may be that the customer couldn't pair their phone with the Bluetooth for example, and this will open up another conversation where you can put their mind at rest by sending them a video that explains the operation.
Essentially, you shouldn't be doing anything hugely different from when you offer a customer a test drive in the usual fashion – it's about listening and giving the customer the best possible experience.
Looking for more guides? Click here for our dedicated section on the advice and guidance you need