Andrew Evans seized the opportunity to put a pre-production GT variant through its paces. So what did he think?
What is it?
The fourth generation of the Renault Megane is finally with us… well, sort of. It won't be on the UK's roads until the summer of 2016, but we've been driving it already in pre-production form. This top-spec GT is the sporting offering – for now at least.
What's under the bonnet?
In GT form, the Megane packs in a little 1.6 litre turbocharged four-cylinder petrol, rated to 203hp. If this sounds familiar, it should – it's the same engine you'll find in the hot Renaultsport Clio RS. It's good for a 60mph sprint in around seven seconds. Full engine line-ups for the UK range haven't been decided yet, but there'll be models with the Nissan-Renault 1.6 dCi diesel and a diesel-electric hybrid to follow.

What's the spec like?
Comprehensive. The GT boasts big, comfy bucket seats, but we also tried out a car with plusher massage seats. This felt a little like an over-amorous Rottweiler at times,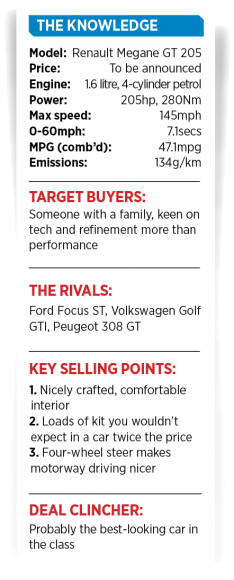 but it's not an option you get on many C-segment hatchbacks. Nor is the customisable

ambient lighting, the colour head-up display – which neatly includes a safe-distance warning indicator in green, amber and red – or massive, 8.7-inch touchscreen. This is mounted vertically, as in the much more expensive Volvo XC90, and has oodles of functions, even if they're sometimes buried in odd menus.
What's it like to drive?
This is where it falls down a little bit. The regular Megane is actually a reasonable thing to steer and comfy enough, but the GT is a bit of a mess. The steering has been quickened up by 30 per cent and what should be gentle driving turns into more of a dart-about. This is exacerbated by the 4CONTROL four-wheel steering system – a first in this class in the modern era. The rear wheels turn up to 2.7 degrees opposite to the fronts under 50mph and up to one degree in the same direction above 50mph. It makes the GT more bearable on the motorway but very odd when enjoying a back road – a mix between a slow puncture and a bit of 80s style lift-off oversteer.
What do the press think?
Car says that the Megane is 'classy, solidly built, good looking and surprisingly interesting in a sector hardly bursting with innovation', while Autocar thinks that, in the case of the GT, 'the sluggish gearbox, uninvolving steering and harsh engine will put off those seeking something with a bit of an edge'.
What do we think?
When it comes to the GT, it feels like it's just not ready yet. A tweak of the steering, a fiddle with the gearbox software and it might be good – at least on continental roads. That aside, it's a refined, pleasant place to be and rectifies some of the Megane's issues.