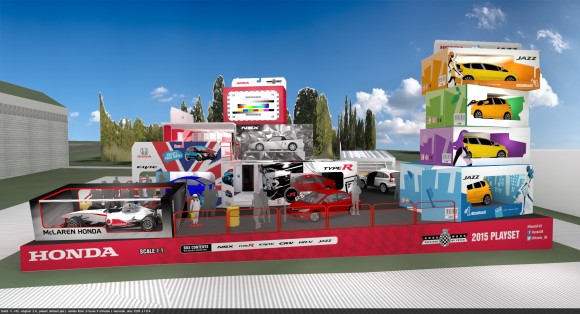 HATS off to Honda… this is their stunning stand for this year's Goodwood Festival of Speed. 
They call it the 'Honda Playset', and it looks like a collection of children's toy cars with over-sized toy boxes featuring life-size cars sitting inside each one.
We don't normally get excited by manufacturer stands, but even we have to admit, this one is seriously good.

The full UK Honda line-up on the stand will include the all-new Jazz, NSX, Civic Type R, HR-V and refreshed Civic and CR-V. The McLaren-Honda MP4-30 will be a central feature.
Phillip Crossman, managing director of Honda UK, said: 'This is a big year for Honda and what better way to display that than with an imaginative stand for Goodwood. Each one of our products has its own character and the stand has been designed to showcase these qualities by giving each car a visually-distinctive platform. Having thought outside of the box, we're certainly going to stand out from the crowd – by placing our cars inside the box!'
MORE: Lookers in drive to raise funds for Prince's Trust
MORE: RAC Cars reaches 200,000 milestone
MORE: 40 per cent of trade buyers bid on vehicles 'out-of-hours'

On superunleased.com – Can iPhone 6 Survive Being Thrown Out Of Car Window At 100mph?