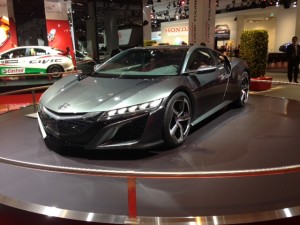 HONDA'S new collaboration with McLaren will revive the brand's sporting image, managing director Phil Crossman, exclusively told Car Dealer Magazine.
'Honda has always had a firm, successful image and the brand's connection with motorsport is still very strong,' Crossman told us. 'Now, our sporting credentials continue to evolve.'
This link will see the Japanese brand develop McLaren's Formula One engines from 2015, while Honda has also confirmed that the partnership with McLaren will play a significant part in the development of its new NSX sportscar, which is also due to launch in 2015.

'The NSX and our Civic models prove to our customers that the technology we develop and use in motorsport is being filtered down into our road cars,' Crossman explained.
'Dealers are phenomenally excited about the NSX and we've already received 15 orders from dealers in our network. I don't think we'll sell a lot of them, but we wouldn't expect to. We may have dropped off the radar, but we will get back on there over the coming months.'
He adds: 'People will realise that the ownership experience with our dealers is of very high quality and over the next two years, Honda will be building on its product range.
'Honda is in good shape and in terms of the future, we aim to maintain that good steady growth. We'll do this by making sure we keep looking after our customers and ensure our dealers are comfortable.'