HYUNDAI has announced that its Nexo hydrogen fuel cell electric vehicle (FCEV) will have a range of 500 miles.
This means that its next hydrogen vehicle will be capable of driving from Birmingham to Dusseldorf in one charge, as the car maker's CEO and chairman Tony Whitehorn announced yesterday at the NEC, and puts its range at almost 100 miles ahead of the nearest competitor on the market.
The Nexo will go on sale at the end of 2018, although Whitehorn raised questions about the UK's current hydrogen fuelling infrastructure.

The Nexo will also have an efficiency rating of 60 per cent, making it 30 per cent more efficient than an average internal combustion engine.
In addition, Hyundai claim the battery technology in the car will be so advanced that the SUV will be capable of enduring 100,000 miles of motoring at 30 degreees below freezing.
Whitehorn said: 'We've been in for FCEVs for quite some time. In fact, Nexo is our sixth-generation FCEV.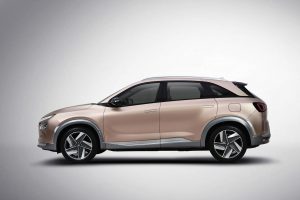 'When people talk about batteries, and this is a hydrogen-fuelled battery, everybody talks about what the range is. With Nexo, if you started from Birmingham now, you could go all the way to Dusseldorf. That is the distance that this car can go without having to re-fuel.

'A normal combustion engine has a normal efficiency about 30 per cent. This model has an efficiency of 60 per cent. That starts to really translate into saving energy, being more efficient, as well as not having any tailpipe fumes coming out because all it produces is water.
'Another point as well is everybody says that battery technology doesn't work in the cold. This vehicle manages to operate for 100,000 miles at -30-degrees. That is a first.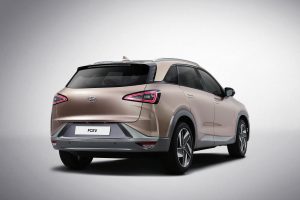 'Why aren't we moving forward with the future, which is very much the FCEV technology? It's all to do with infrastructure. In the UK, we need more hydrogen filling stations. But it is coming, the government is gradually giving funding for more and more hydrogen fuel filling stations.
'This vehicle comes to the UK at the end of this year stroke beginning of next year. This is the future. It is my belief that by 2030, 300,000 FCEVs will be sold and that is therefore just 12 years' time. We have to get to something around that level because in 2040, there will be no internal combustion engines being sold.'
MORE: Hyundai announces its retail future – including split from Rockar
MORE: New Hyundai sales director confident of further progress
MORE: Hyundai Motor extends and enhances scrappage and emissions reduction scheme
On Workshop: BoxClever, NGK running British Grand Prix contest for their customers