WITH the industry rife with rumours that the new 13-reg – available from March 1 – will have a negative effect on new car sales because of superstitious buyers, we asked the industry's top brass whether they thought this would be true.
Our question of 'Are you worried the 13-reg plate change will put buyers off?' was one of 10 questions we asked our automotive influencers. To read what else they had to say, download Issue 59 of Car Dealer for FREE. You'll find our app in the iTunes store here
Mark Ovenden, Ford of Britain, managing director
In 2013, Ford will be concentrating on the positive aspects of the number 13 by adding a further model to its current 12 model line-up. Since the introduction of our global One Ford strategy in 2006, the company has delivered more vehicles faster to increase its competitiveness. Ford has added five all-new car nameplates: S-Max, Kuga, Grand C-Max, B-Max and Tourneo Custom.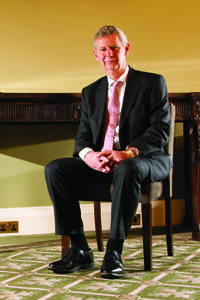 Edmund King, The AA, president
An AA Populus poll found 10 per cent of drivers said they would not buy a car with 13 on the number plate.
A third said a car with 13 on it would make it harder for them to sell. Personally I would love a new Aston Martin DB9 with 13 on it.
Jon Williams, Toyota GB, president and managing director
I do not believe the '13' plate will have an adverse effect on sales. For those who are superstitious they can easily transfer their current registration plate to their new car, take out a personal plate, or wait until September for the '63' plate.
Stephen Sklaroff, Finance and Leasing Association, director general
No, I don't think buyers will be put off by the new plate – particularly when they see the range of deals available to them in showrooms. There really has never been a better time to buy a car on finance. As ever, March will continue to be an important month for the industry.

Tim Zimmerman, Peugeot UK, managing director
I am not superstitious and so certainly not worried about that. In fact, the DVLA is saying that early indications suggest that the '13' plate will prove incredibly popular with UK car buyers. However, for the few customers who still believe in superstition in this technological age, make sure they take delivery of their car in January or February on a '62' plate and maximise dealer cash flow.
Daksh Gupta, Marshall Motor Group, chief executive
Even if there are fewer buyers out there during the '13' plate they will come out in January and February or wait 'til September for '63' plate regardless. Nothing stops you stealing other people's dinner or making your own luck!
Erhard Paulat, GMAC, chief operating officer
We have no worries over the plate change but are planning for another good March.
Linda Jackson, Citroen UK, managing director
What a strange question. I'm looking forward to driving my new '13 plate' DS5. No, I don't believe for a moment that it will put people off buying a brand new car in March.
Alex Rose, Google, industry manager automotive
If we see a dip in sales attributed to superstitions around '13 reg' plate change I will willingly perform my next speaker event for Car Dealer magazine in a Spurs shirt!
Craig Stevens, Auto Trader, group director digital marketing
On the contrary, a '13' plate could be a collector's item, particularly in the cherished plate market for people called BO13.
Tony Whitehorn, Hyundai Motor UK, president and CEO
2012 has been a very positive year for Hyundai and for all new car registrations and we're expecting that trend to continue into 2013. Early indicators suggest no marked difference in consumer interest in the '13' plate.
Mike Pilkington, Paragon, managing director
Inevitably some people will be superstitious and not buy but they will be few. I expect we will see some very creative marketing initiatives from manufacturers and dealers to entice customers not to mention continued new car offers.
Nick Horton, Supagard, sales director
Recognising that 84 per cent of people in the UK are said to be superstitious in some way, I would expect some will be worried about the '13' reg plate. However, this question creates an immediate association to the answers provided to some of the earlier questions. In short, combating any potential loss due to the new reg plate is very much in our own hands.
Gerry Lynch, Carcom, chief executive
Where there are customers who do have a worry, the DVLA has said they can have a 62 plate. Our view is that most people will accept the 13 plate. There is a view that the 13 plate might be popular with buyers, particularly those who personalise.
Rob Lewis, Contact Advantage, managing director automotive
The number 13 is a chance for sales teams to sell private plates and make some extra profit. The DVLA website is simple to use and the process is refined if the sales team have web access. In China, which has half the world's population, 13 is just another number whereas four is unlucky as it sounds similar to death. For us 13 is deemed unlucky because of the number of people who went to the Last Supper. I'm not superstitious – in Guatemala 13 numbers win the state lottery!
What do you think?
Let us know by posting your comments below