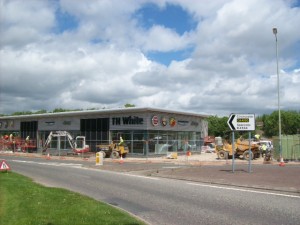 A TEAM of Italian craftsmen are being flown into the UK from their native country to install a unique floor in a new dealership.
T H White's new £3m showroom in Swindon, Wiltshire, will be the first in the UK to house all six Fiat-Chrysler brands under one roof.
It's due to open in early August to mark the return of Fiat to Swindon after a five-year absence.

Fiat, Abarth, Alfa Romeo, Chrysler, Jeep and Fiat Professional, the company's van division, will all be housed under one roof, and Italian craftsmen will be flown in to work specifically on the Abarth section.
To ensure each of the six brands are visually identifiable, each brand will be allocated separate floor space in the new showroom. The craftsmen will be flown in to work on the Abarth section.
Some 18 staff will transfer from T H White's existing Fiat outlet in Cirencester, while the Chrysler Jeep franchise moves from Sytner in Swindon as part of a reorganisation of Chrysler Jeep following its acquisition by Fiat.
T H White's divisional director, Nick Down said: 'It's getting more and more exciting the closer we get to the opening. We see massive potential, not just bringing Fiat back to Swindon but also with the commercial vehicles.

'It's also a great time to be with Alfa Romeo which has some great new product coming including the 4C and Spider. Jeep globally is very successful and as Chrysler Jeep beds into the Fiat family and becomes more European, it will have greater success.'
Having been a Land Rover dealer for 30 years, today it has an annual turnover of £100m and it employs 500 people. The addition of the new franchises means that the company will now be able to offer customers cars from used Fiats, £50,000 Jeeps to £100,000 Range Rovers.
Down added: 'Land Rover and Jeep complement each other rather than compete – Customers might not want to spend £100,000 on a Range Rover but will spend half that on a Jeep. I think T H White can add value to the Fiat brand and new premises always bring new business and we can put these new brands firmly on the shopping map.'