JAGUAR launched its new compact SUV E-Pace quite literally into the air tonight with a James Bond-style barrel roll in London's ExCel.
In honour of the late Roger Moore the Jaguar SUV took on the iconic jump, made famous in the film 'The Man with the Golden Gun' from 1974. Stunt driver Terry Grant was the man behind the wheel as he broke the Guinness World Record for the furthest barrel roll in a production vehicle, and it was his 24th personal world record.

The E-Pace is the next model in Jaguar's SUV line-up and its introduction to the world was as dramatic as its sales are expected to be. It sits in the range under the larger and already hugely successful F-Pace, but with its smaller stature the E-Pace is expected to surpass its stablemate.

It may be an SUV like the F-Pace but it's heavily influenced by the F-Type. Sleek lights, etched lines in the bodywork and the rear flick across the boot are all taken from the sportscar and makes it stand out clearly next to the existing SUV.
Here's a look at the new @JaguarUK #EPACE. It's a baby Jag with huge sales potential. pic.twitter.com/Mh00yKcwNV

— Rebecca Chaplin (@believebecca) July 13, 2017
The Jaguar design and engineering team have taken this car to the next level tech-wise. As standard, the E-Pace gets a 10-inch colour screen with Jaguar Land Rover's own TouchPro infotainment system. It's also the first Jaguar to feature a next-generation head-up display and gets the option of a 12.3-inch instrument panel.
With practicality for modern life in mind, there are four USB ports, a 4G Wi-Fi hotspot for up to eight devices and storage specifically designed to hold phones or music players.
Buyers will also be able to opt for a wearable Active Key, a waterproof and shockproof wristband that allows owners to lock the main key inside the car when doing activities such as running or swimming. To get back in the car all owners need to do is hold the wristband to the top corner of the of the number plate surround.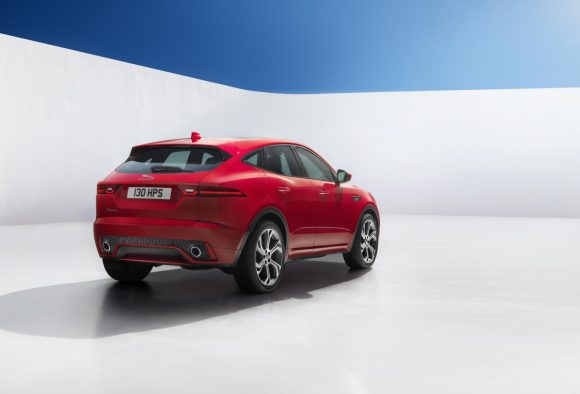 Under the bonnet there will be a choice of three petrol and two diesel engines. The most powerful is the 296bhp petrol turbo engine, capable of 0-60mph in 5.9 seconds and with a limited top speed of 151mph. For those looking for a more economical option, the lower powered 148bhp Ingenium diesel engine emits just 124g/km of CO2. This will reach 60mph in 9.5 seconds and has a top speed of 124mph.
Sales of Jaguars are up 83 per cent year-on-year, driven largely by F-Pace. Although Jaguar Land Rover UK MD Jeremy Hicks is remaining conservative in his estimates, this model is expected to see this rise even further.
He said: "Evoque last year sold 30,000 in the UK, it was its best ever year and Land Rover is always a good barometer. In six months of this year we've sold 7,000 F-Paces, so assuming that continues, we'll sell 14,000 this year but the chances are we'll do more.
"Already from initial enquiries it looks like E-Pace be pretty strong. What we tend to do is be more conservative with our volume planning. It's always better to sell one more than you planned than one fewer. It'll be very interesting to gauge the interest of consumers when they start to see the car."
The Jaguar E-Pace order books opened tonight and prices start from £28,500. A First Edition model will be exclusively available for the first year, priced at £47,500, available with either the 178bhp diesel or 246bhp petrol engine and based on the R-Dynamic SE specification pack.
MORE: JLR to introduce seven new or upgraded London showrooms by 2019
MORE: Range Rover family up to four with new model Velar
MORE: A 'special moment' as new Land Rover Discovery arrives in dealerships
On SuperUnleaded.com: Red Bull drift team: Now with added accordion!