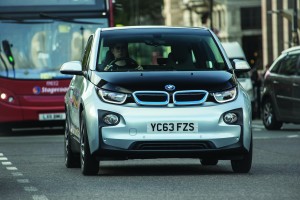 The BMW i3 and its range extended counterpart are now available at the click of a button from Amazon Japan. 
Buyers can pay a deposit of ¥990,000 (£5,545.12) for the electric BMW city car, costing a total of¥5.46 million (£30,596.12), which is available in six different colours with an assortment of optional extras pre-selected from Amazon. The website then says BMW will usually ship the car two to three weeks later, however the purchasing options are only for five-year lease or vehicle loan.
A BMW Japan spokesperson told AFP: 'We have 46 dealers (which sell the electric model) in Japan, but we hope this e-selling will cover the entire market more thoroughly. This will widen the sales channel and improve convenience for customers.

'So many people are using the website. We would like to research potential customer groups who may be interested in our products.'