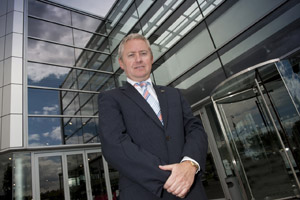 JCT600 has acquired Gilder Group – a Sheffield-based firm with a number of dealerships under its wing.
Gilder Group has a number of car and commercial vehicle dealerships along with two parts depots and a body shop – all of which, bar its Honda franchises, will transfer to JCT600 in a deal worth an 'undisclosed eight-figure sum'.
The group, a 'pioneer in car retailing', was first formed in Sheffield by William Gilder in 1938 – and in 1953 became the first Volkswagen dealership in the UK.

The purchase gives JCT600, based in Bradford, further presence around South Yorkshire – bringing the number of dealerships to a total of 50. JCT600's workforce also increased, now 1,800 up from 1,350.
'This acquisition is another leap forward for us as a group, strengthening our coverage geographically and adding some more strong dealerships to the group,' said JCT600 chief executive John Tordoff.
'We are growing our workforce by a third, adding over 30 per cent to our revenues and taking on nine new dealerships, making this the biggest deal JCT600 has ever done.
'In 2009 we acquired York and Hull Audi from Gilder Group and so we know from that experience that we are buying a business with fantastic staff, loyal customers and high standards of care.

'Garry has built a solid, profitable business since he took control of The Gilder Group in 2002, and one that will dovetail perfectly with our existing operations and give us further economies of scale and increased buying power.'
Garry Scotting, CEO of The Gilder Group commented: 'The group will continue to have a presence in Sheffield as we have chosen to retain our three Gilder Honda sites. And, even though I am retiring from the business, I will retain shares in the group and support the Gilder Honda team to grow.
'The acquisition marks an end of an era for me, one of which I am extremely proud. My first interaction with Volkswagen and Audi came in 1980 at Gordon Lamb. After joining Gilders in 1985, I was able to further pursue my career with the brands and when I was given the opportunity of taking control of the group 11 years ago it was a business opportunity not to be missed.'