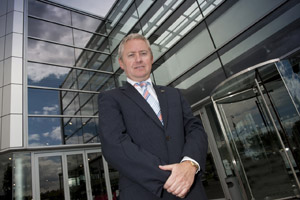 DEALER group JCT600's fleet division has recorded a 28 per cent year-on-year growth in the last 12 months.
During 2013, the Bradford-based business – run by John Tordoff, pictured – sold 11,200 vehicles, worth around £200m, and its volume and prestige fleet operations secured a number of new contracts.
'The growth of the division is part of an ambitious five-year strategy which includes establishing ourselves as the fleet dealer of choice locally, regionally and, long term, nationally,' said Neill Richards, fleet sales director of JCT600.

'We have already made tremendous progress and are well on our way to reaching our target of delivering 20,000 vehicles by 2018.
'The plan is to consolidate the successes of 2013 in this quarter, ensuring that our award-winning service levels are maintained with new business as well as with existing customers, and then to build on our business development success throughout the rest of the year.'
Richards added the business is confident that fleet sales volumes will hit 13,000 in 2014 as a result of the new business from the former Gilders' dealerships that have joined JCT600.