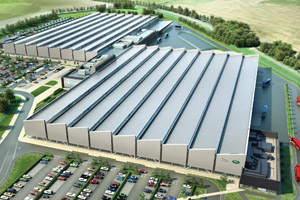 JAGUAR LAND ROVER has announced the creation of 1,400 new highly skilled engineering and manufacturing jobs, thanks to a new engine manufacturing centre.
The plant, which JLR MD Jeremy Hicks spoke briefly to Car Dealer about last year, is understood to be situated near Wolverhampton in the West Midlands – an area of the UK once infamously associated with car production.
JLR have invested more than £500 million in the plant, and will invest £2.75 billion in 'product creation' during 2014 – seeing the group introduce eight 'new or refreshed' models in a 12 month period. With around 80 per cent of Jaguar and Land Rover models currently being produced for export, the investment is being hailed as a major boost to the UK economy.

The plant is the first designed from the ground up by the group – with current engines produced at Ford's UK plants, either at Dagenham in Essex, or Bridgend in Wales. Covering nearly 100,000 square meters, the new centre will include various testing centres as well as manufacturing facilities, and will be run using 'a variety of energy efficient technologies'.
JLR are investing heavily in developing a family of new engines too, a series of 'technologically advanced' four-cylinder diesel and petrol engines that should bring down the group's average CO2 emissions.
'Jaguar Land Rover's new Engine Manufacturing Centre in the UK is a clear demonstration of our business strategy guiding our investment plans,' said JLR's chief executive officer, Dr Ralf Speth.
'Not only does it bring our engine supply back to our production doorstep, but it gives us significant new resource as we continue to innovate with new products and markets.'