Here's your business, motoring and news round-up for Monday, July 20
Senior medics warn 'illogical' face covering messaging risks Covid spread
The British Medical Association (BMA) has criticised the government for its 'illogical' messaging around face coverings.
It said a second peak of Covid-19, combined with a seasonal outbreak of flu, could be 'devastating for the NHS' and voiced criticism of government guidance on the use of face coverings, the Guardian reported.

Face coverings are already compulsory on public transport in England, and the government has made it mandatory to wear them in shops and supermarkets from July 24. But BMA council chairman Dr Chaand Nagpaul said introducing coverings in shops but not workplaces, or other areas where social distancing was impossible, was illogical.
Dividend pay-outs crash £22bn lower in second quarter
Dividend pay-outs were slashed by £22bn over the past three months as investors felt the impact of the coronavirus pandemic, according to new figures.
The latest dividend monitor by finance firm Link Group has revealed that dividends paid out by UK companies plunged by 75 per cent in the second quarter of 2020. It also showed that 176 companies cancelled their dividends altogether and another 30 cut them, comprising about three-quarters of firms which would typically pay dividends in the period.

Susan Ring, chief executive of corporate markets at Link Group, said that 2020 will 'without doubt, see the biggest hit to dividends in generations' due to the enormous economic impact of coronavirus.
Manufacturers call for furlough scheme extension as firms eye job cuts
UK manufacturers have called on the government to extend the job retention scheme by six months as they warned of job losses 'on a scale not seen since the 1980s'.
Trade group Make UK said the government should extend the furlough scheme for strategic industry sectors to protect highly skilled jobs, as the coronavirus pandemic continues to cast a shadow over manufacturing.
The call came as the organisation's latest survey revealed the number of companies planning to make redundancies in the next six months has risen to 53 per cent. Read more
Average house price tag '£7,640 higher than in March'
A property market 'mini boom' has pushed the average house price to a new record high of over £320,000.
Rightmove said the average seller is now asking £7,640 more than they were before the coronavirus lockdown in March, with the average price now at £320,265.
Earlier this month, Chancellor Rishi Sunak announced a stamp duty cut for England and Northern Ireland. Some commentators have suggested the stamp duty cut could push up prices and sellers may add the equivalent of the stamp duty saving buyers are making to their asking price.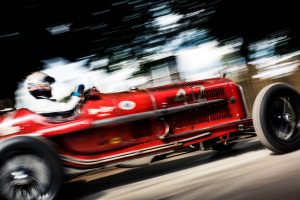 Goodwood digital Speedweek event announced
Goodwood is set to host a completely digital festival in October.
Called Speedweek, the event will take place from October 16-18, where it will combine aspects of the Festival of Speed and Revival festivals which were both cancelled due to the coronavirus pandemic.
Due to ongoing restrictions, the event will take place behind closed doors with no spectators allowed within the circuit's boundaries. However, the free-of-charge event will be broadcast globally via Goodwood Road & Racing's website, as well as on its social channels and through a series of broadcast partners.
People 'more concerned about impact of Covid-19 on finances than Brexit'
People are more concerned about the impact of Covid-19 on their finances than they are about Brexit, a survey of 11,000 people suggests.
Building society Nationwide found two-thirds of people (65 per cent) think the pandemic is more concerning for their personal finances, while more than a fifth (21 per cent) believe Brexit is the bigger threat.
Despite many households now living on reduced incomes, nearly two-fifths (37 per cent) of people had put more into a savings account than they would usually, rising to 45 per cent of 18 to 34-year-olds. Only one in six (16 per cent) people said they had saved less since lockdown started on March 23, and more than a third (36 per cent) wish they had saved more before the pandemic struck.
Partnerships to yield extra 90 million doses of coronavirus vaccine
The government has announced it has signed new deals which will provide more than 90 million doses of Covid-19 vaccine.
Business secretary, Alok Sharma, said UK has secured an agreement for 30 million doses of a vaccine being developed – and currently at phase two trials – by BioNTech and German firm Pfizer. The 90 million figure is in addition to the 100 million doses of vaccine that are being developed by Oxford University in partnership with AstraZeneca, as well as another at Imperial College London which started human trials in June.
Sharma said the government has also done an in-principle deal for 60 million doses of an antibody treatment that is being developed by France's Valneva for vulnerable patients who cannot receive vaccines.
And looking at the weather…
Today
The BBC says today will see sunny spells and variable cloud across the UK, with the best of the sunshine in the south. There will be some showers for the north, whilst it will be a dry day for the south.
Tonight
Most of the UK will have a dry night with long clear spells, but areas of cloud will drift into some northern and western areas. Northern Scotland could see some further showers. Another cool night.
Tuesday
A dry day for many tomorrow with spells of sunshine, but some cloud will build during the day. There will also be some showers once again in the north. Risk of some rain in the far north-west later.