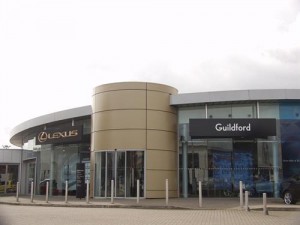 LEXUS has been named 'Best Car Dealer' in the Auto Express Driver Power survey for the second year running.
This year the magazine's research gathered the opinions of more than 50,000 of its readers and visitors to its website, autoexpress.co.uk, ensuring the results are based on the real-world experiences of Britain's motorists. The brand improved on its 2013 result, being placed first in six of the survey's seven categories.
Graham Hope, Auto Express deputy editor, said: 'Year after year Lexus sets the benchmark for other brands to follow with its fantastic dealer network. Auto Express readers know great customer service when they see it, and that is exactly what Lexus dealers deliver. They continue to set the standard in this most important area of the car industry.'

Richard Balshaw, Lexus director, said: 'Ever since Lexus arrived in the UK in 1990, we have been committed to delivering the finest customer experience in every aspect of our business. By embracing innovation and new technologies and by listening to what our customers want, we have been able to push the boundaries further, year after year.
'We are proud of our performance in the Driver Power survey this year, an achievement that has been delivered thanks to the commitment of everyone within Lexus, and the genuine appreciation and enthusiasm of our customers.'
Manufacturers are ranked on helpfulness and attitude, standard of workmanship, cleanliness and atmosphere, technical knowledge, keeping you informed on progress and cost of work, value for money and overall score.
Top 10 best dealers

1. Lexus
2. Honda
3. Porsche
4. Subaru
5. Skoda
6. Toyota
7. MG
8. Jaguar
9. Peugeot
10. Kia
Bottom 10 dealers
23. Citroen
24. Fiat
25. Nissan
26. Audi
27. Ford
28. Land Rover
29. Chrysler/Jeep
30. Chevrolet
31. Volkswagen
32. Seat