IN SOME ways it's a pretty normal car dealership – complete with the usual glossy brochures and manufacturer-branded coffee cups.
But while some of the things you'll find at this particular showroom are fairly routine, there's plenty here that you won't see elsewhere.
Covering a substantial four acres, the Poole Audi Centre in Dorset is not only the largest of its kind in Europe; it's probably the most luxurious. It houses an on-site spa – thought to be a world-first for a car dealership – a well-equipped gym and a swanky airport-style lounge in which customers can enjoy complimentary refreshments.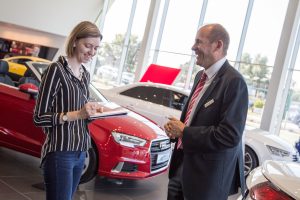 Of course, the development of such an extravagant dealership came at a hefty price.
A total of £14.5m was invested in the premises and now they're all in situ, the 110-strong team relocated just a mile up the road from their former, and notably smaller, base.
Boasting groundbreaking facilities for customers, Poole Audi, in Old Wareham Road, was designed to transform the entire customer experience, be that in relation to servicing, parts, or the sale of new and approved used cars.
David Kelly, MD of Poole Audi Centre, told Car Dealer: 'The expansion of Poole Audi over the last 16 years stretched the previous Ringwood Road facilities to the limit with 90 employees working in a building that was designed for 30.

Impressive record
'With the opening of the new Poole Audi Centre, we will strive to maintain our impressive record for customer ratings in sales, aftersales, parts and accessories – a standard that has consistently seen Poole Audi top the national league of 113 Audi centres.'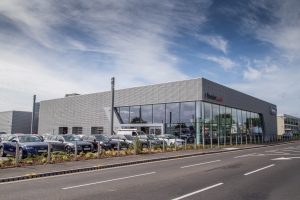 The relocation and development of the centre, which coincided with the publishing of the business's 2016 turnover projections at £79m, took just 14 months to complete – impressive for such a vast and complex site.
What's more, it has facilitated the creation of more than 20 new jobs in sales, servicing, parts, hosting and finance.
Being the curious bunch we are here at Car Dealer Magazine, we were keen to experience the world-class customer service for ourselves.
Surprisingly, and without too much arm-twisting, we managed to persuade Audi Poole's head of business, Mark Laming, to allow us to spend an entire day with his team and get a real taste of what it's like to buy a car from the UK's largest Audi showroom. We dropped in very soon after the building opened for business.
Laming said: 'Since its conception in 2000, Poole Audi has continually expanded in excess of the national average and underwent one major refurbishment in 2006. In 2012 it was decided that a new home was needed for the business and the Old Wareham Road site was acquired. Four years later, here we are.
'Today, having only opened the doors for business 48 hours ago, it already feels as though we've been open for months – but in a good way. We've been delivering cars to more than 15,000 loyal customers for the past 16 years, and they've been extremely supportive through the development of this centre.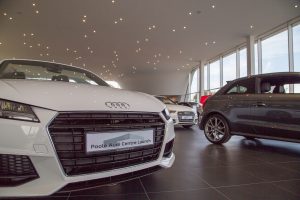 'Our aim was to be braver and provide more choice for everyone who walks into our showroom.' Although, as Laming explained, the new showroom had only been officially open for two days when we arrived, we were greeted with a wonderfully warm welcome and, following a few too many cups of coffee, we were handed a menu. This was where our day in the life of an Audi Poole customer was to begin in earnest.
Personalised consultation
Said menu was a treatment guide for the Lilliput Health and Beauty Spa. That's right, while waiting for their vehicles to be serviced, or to kill time between appointments, customers can book a complimentary 30-minute treatment, or pay for a full hour-long session.
Faced with a comprehensive choice of treatments, we finally decided on the 60-minute customised facial and were promptly guided to a comfy seat in the spa, before undergoing a personal consultation with a beauty therapist.
We were pleasantly surprised by the entire experience and didn't for one moment feel like we were in a dealership; it was more like a five-star hotel spa resort.
It's fair to say we left the spa feeling slightly more relaxed than anticipated. So the next activity on the agenda was designed to wake us up a little – a tour of the full facilities ahead of a test drive in an Audi RS6.
As we made our way across the site, we found ourselves constantly astonished by the vast amount of space available and the incredibly futuristic facilities – especially in the workshop and parts department. Poole Audi houses 80 spaces for used cars plus 325 spaces for vehicles being stored and serviced – not to mention the half-acre of rooftop parking which is able to accommodate more than 100 vehicles.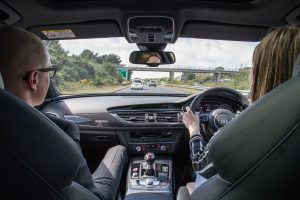 Three climate-controlled, drive-in, drop-off and pick-up bays provide access to the new centre, enabling the entire service, MOT and sales experience to take place undercover.
Pioneering development
Meanwhile, inside, the new 8,300 sq ft showroom exhibits 24 new Audis, incorporates three hand-over bays, two HD display configuration rooms and a 24-bay workshop which incorporates two MOT zones with full valet and SMART repair facilities.
Audi Poole has clearly been designed with the future in mind and it is a pioneering development that reflects the increasing expectations of Audi owners along with the pace of competition in the premium car market.
While touring the facilities and meeting members of each department, from sales and service through to parts and customer service, it was the passion of the staff and the pride they showed, which really grabbed our attention.
'Staff and customer experience is key to our success,' explained Laming. 'Audi Poole has become a landmark in its own right, with around 30,000 cars driving past every day.
'David's vision for Audi Poole is one that was at first controversial, but has proved to be a step ahead of the competition.
'When he suggested incorporating a spa, I have to admit that I was thinking "really?" but then it came to make sense, and I fully supported him in his vision.'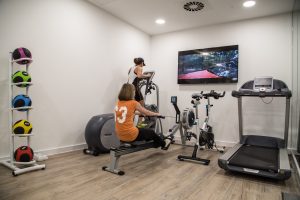 After a quick spin in the RS6 and a spot of lunch, it was time to slip into something a little more comfortable in preparation for an intense workout in the gym.
We have to say, we preferred the spa session! Nevertheless, we managed to row 2,000 metres and even lift a few weights.
Featuring a cross trainer, rowing machine and treadmill, as well as a range of weights and aerobic equipment, the on-site suite is extremely well-equipped and ideally located next door to shower and changing-room facilities.
It's fair to say, by the end of our workout, we were more than ready for another spa treatment. But, more importantly, Poole Audi had proved to us that spending eight hours in a dealership isn't quite as absurd as it sounds – in fact, it can be rather entertaining and great fun.
What's more, Audi Poole taught us that a successful business depends on having happy and motivated staff.
'To bring such a significant employment opportunity into Poole in the form of the country's largest Audi Centre, one that will serve Audi customers to the very highest standard for many years to come, is a significant landmark in Poole Audi's journey,' concluded Laming.
'We teach skills, but our real success is the desire of our staff. As well as an incredible site, we are blessed with a driven and transparent team. I like to think of Audi Poole as my legacy – a business and team that I'm extremely proud to be a part of.'
MORE: Brexit threatens UK's resurgent car industry, according to report
MORE: Platts Garage Group joins expanding Renault dealer network
MORE: £35,000 raised for the Prince's Trust at spectacular Lookers event
On SuperUnleaded.com: Top Nine Worst Chinese Copycat Cars