PLATTS Garage Group has added further momentum to the rapid growth of the Renault UK dealer network with the opening of its new franchise in Stafford.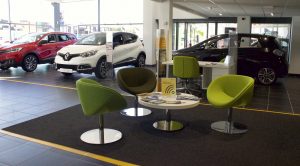 The new dealership is Platts' first Renault and Dacia franchise, the development playing a major role in continuing the family-owned automotive group's successful expansion into Staffordshire and the West Midlands.
Established in 1938 and solely operating in Stoke-on-Trent until 2012, Platts Garage Group was quick to identify Groupe Renault as the ideal franchise for its new Astonfields Road site in Staffordshire's county town.

Coupled with seeing the results that other automotive groups new to the Groupe Renault franchise were enjoying, the brands' increasing popularity and continual evolvement of its strong model ranges were key factors in Platts' decision.
The new dealership represents a significant financial investment by Platts and its opening has created a number of jobs across all areas of the business.
Although the extensive redevelopment work entailed the extension of the workshop and major internal changes to the main building, the dealership was also completed in a very short time.
Alex Platt, Director of Platts Garage Group, said: 'Renault and Dacia were the perfect fit for our portfolio and our own plans for expansion – what Groupe Renault has achieved in the last two years is very impressive.

'We fully expect to over-deliver with our targets and the addition of Dacia now provides extra scope for us to serve those customers who believe that their budget can only stretch to a pre-owned vehicle.
'Based on what we believe is possible with the brands, there's certainly room to grow our number of franchises throughout the West Midlands.'
Mark Potter, director, northern region, Groupe Renault UK, said: 'Platts Garage Group is another fantastic addition to the Groupe Renault UK dealer network.
'Staffordshire is an area that we have long wished to have an increased representation in and, having seen how Platts has firmly established itself in the region in only a couple of years, we are certain that anyone in the area who has an interest in Renault and Dacia will be exceptionally well served.'
MORE: Driverless cars dodge a stray dog and Pokemon Go player
MORE: Vertu Motors reports record pre-tax profits of £18.7m
MORE: Wessex Garages sponsors schoolgirl's African adventure
On SuperUnleaded.com: Pranksters 'Punish' Bad Parkers in Florida