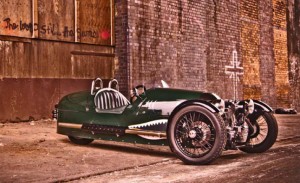 LONDON Morgan is proud to have been named Morgan Motor Company's 'Dealer of the Year' just 18 months after opening its doors for the first time.
London Morgan was ranked top of Morgan's 16 appointed UK dealers, reflecting the diligent work of the London Morgan team. The ranking for the award was judged on customer satisfaction and vehicle sales performance.
Since opening in May 2013, London Morgan has embarked on a mission to introduce the bespoke automotive craftsmanship of the indistinguishably British Morgan marque to an international London market.

Honoured to receive the award, Dealer Principal Anthony Barrell, said: 'Since launching 18 months ago, we have had a phenomenal response from customers across London, the UK and internationally. London Morgan's success in delivering beautiful hand-built vehicles is partly due to our confidence in Morgan's ability to capture the imaginations of our customers so the credit should also go to the Morgan Motor Company.'
Located in Astwood Mews, a traditional working mews in the heart of South Kensington, London Morgan's showroom provides the perfect backdrop to display these motoring icons. Combining modern automotive technology with traditional coach building craftsmanship, Morgan cars seem to have found their natural London home.
London Morgan holds a stock of new vehicles including the Aero Coupe, Roadster and 4-seater with global delivery options. Dedicated factory trained technicians, with impressive knowledge of Morgan vehicles, provide expert assistance. In addition to sales and service of both the four and the three wheeled cars that the factory produce, London Morgan offer after-sales for existing Morgan owners, hire for all occasions, factory tours and body work.
MORE: Henstock: Diesel dilemma is over

MORE: James Bond has ditched his Aston Martin. And guess what he's driving instead…
MORE: Dealers displaying iconic cars at new classic show in London's Docklands