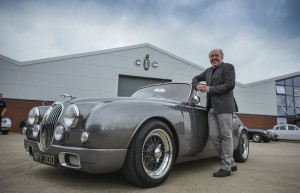 SOME of the most iconic cars will be on display at the inaugural London Classic Car Show – and a wide range of exotic, rare and desirable classics will be for sale.
The cream of the UK's specialist dealers have embraced the show.
ExCeL in Docklands will be the venue for the inaugural London Classic Car Show (January 8 until 11, 2015) where Jaguar, Ferrari, Aston Martin and Pagini are just some of the top marques that will be represented by the dealers.

And many of the cars will be very special indeed. Restoration firm CMC, for example, will be offering the latest car to come from the pen of Jaguar designer Ian Callum. It's not a new car, however, but a thoroughly-modernised version of the 1960s Jaguar Mk II saloon.
Callum created the car for his own use, entrusting the engineering side of the project to CMC. Although originally envisaged as a one-off, such has been the interest in the Callum Mk II that CMC is building a limited run of replicas and the company will be at the show taking orders.
CMC will also be showing a lightweight racing Jaguar E-type that took 7,000 hours to recreate.
Jaguars will also to be fore on the Eagle E-types stand. The company will be bringing a total of nine cars to the show including two cars specially created by Eagle: the Speedster (Jeremy Clarkson called it his favourite car of all time) and the Low Drag GT.

London-based dealer Hexagon Classics promises a range of exotica including an exceptional Aston Martin DB6 Mk II Volante, a Ferrari Dino and – unless it's be sold before the show – a one-off Ferrari Daytona Shooting Brake.
Dealer Joe Macari will also have a number of Ferraris on its stand, but will also be offering a modern classic, a super rare Pagini Huayra.
JD Classics will be unleashing a very original Ferrari 365/4 GTB Daytona 'Plexiglass'.
Among the other dealers that have taken space at the show are JD Classics Rolls-Royce specialists P&A Wood and Frank Dale & Stepsons, Aston Martin specialist Nicholas Mee, Hall and Hall and Duncan Hamilton.
The London Classic Car Show is the latest creation from Brand Events, the company behind Top Gear Live.
Ian Callum is pictured with his modernised version of the 1960s Jaguar Mk II saloon.
MORE: Ian Callum wins top design award
MORE: Diesel filter removal 'doesn't save that much money'
MORE: Buying and selling cars is a 24/7 business
MORE: RAC launches price-comparison website for servicing, repairs and MoTs