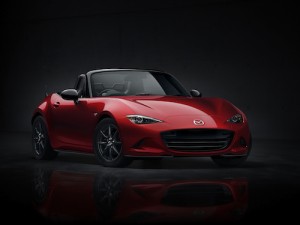 THE fourth-generation Mazda MX-5 was revealed for the first time this morning and will hit UK dealerships next year. 
The unveiling took place in Mazda's new European event hub in Barcelona with the fitting slogan "Live long the roadster".
Mazda has reduced the weight of the new MX-5, putting it at a similar weight to the original model first released in 1989.

The latest incarnation of the popular two-seater sports car comes with the latest SKYACTIV Technology: including specially tuned SKYACTIV-G petrol engines and the first rear-wheel drive version of the SKYACTIV-Chassis.
Mazda Motor Europe President and CEO Jeff Guyton said: 'Mazda's current win streak is driven by our highly acclaimed new models and the all-new MX-5 should only add fuel to the growth engine. Built for the love of driving, this car underscores what Mazda is all about. It will certainly give our brand an added boost.'
More than 947,000 have been produced over the past 25 years, and the MX-5 holds the Guinness World Record as the all-time bestselling two-seater sports car.
As part of the manufacturers quarter-century celebrations, the big reveal was live streamed to the 25th anniversary section where it can still be viewed.