TWO members of the team at Kia Motors (UK) Limited have raised more than £45,000 for children's charities by completing the London Marathon.
President and chief executive Paul Philpott completed the course in four hours and 17 minutes, beating customer service manager Sonia Appleby to the finish line – she managed the course in five hours and five minutes.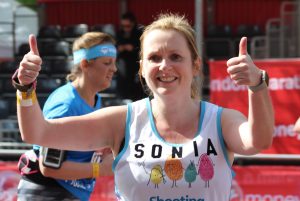 Philpott was running on behalf of Kia's UK charity partner, the Children's Trust, which provides specialised care and support for young people who have suffered brain injury, often sustained in road accidents.

Appleby decided to raise money for Shooting Star Chase – a children's hospice charity.
Both organisations have their head offices near Kia's base in Walton on Thames, Surrey.
Philpott said: 'Completing the London Marathon was a fantastic experience. It was a privilege to take part on behalf of the Children's Trust. I was humbled by the generosity of family, friends and colleagues in the industry and I know this money will make a huge difference to the lives of young people with brain injuries.'
Appleby said: 'It has been a hard year building up to the marathon – but worth every minute. Kia considered Shooting Star Chase as a possible charity partner and I was so struck by their work that I felt I had to do something personally to support them.'

Both have dedicated huge amounts of time to getting ready for the marathon as neither were committed runners before deciding to undertake this challenge.
MORE: HR Owen Cheltenham lists rare Aston Martin Vantage GT8
MORE: Brexit 'has altered car-buying plans for 5m Brits'
MORE: VW fined $2.8bn over diesel emissions scandal
On SuperUnleaded.com: TechArt Unveils Meanest Panamera Bodykit