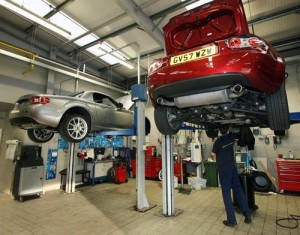 AN increase in the number of new Mazda sales will in turn lead to more demand for servicing at Mazda dealerships, according to the company.
The Japanese firm has confidently said that the launch of the new Mazda 3 and continued interest in its model range will give dealerships' service departments a helpful boost as new models will require their first check-up in the near future.
Mazda UK's aftersales director, David Wilson-Green, said: 'Since our sales have been growing again we can expect growth from servicing to accelerate from March 2015 as new cars come up for servicing.'

Sales in 2013 of 30,000 units were some 16 per cent up on 2012 and ahead of forecast. Sales in 2014 are forecast to grow again as all-new Mazda3 makes an impact and are expected to reach pre-recession levels as we introduce new models in 2015.
Mazda says the challenge of retaining customers is one that its dealer network is relishing.
'We have enviable overall average service loyalty levels of almost 55 per cent, this is measured over 10 services and has been going up,' said Wilson-Green.
By March 2015, Mazda forecasts the number of its cars in the UK that are less than five years old will be at their lowest at 180,000. – consequently the firm is focusing on second, even third owners.

'We will price match any service offered by an independent garage under our "service price promise" to keep a customer in our network.
'When those cars are in, we offer great customer service, a visual health check and free software updates on all cars which helps us to embrace a bigger family of customers.'