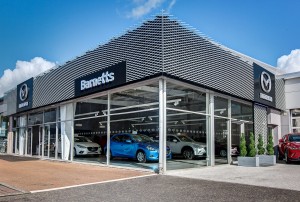 BARNETTS Motor Group has become the first Mazda dealer in the UK to reveal the new premium-style dealership exterior being rolled out across Europe. 
The final touches to the new seven-car showroom at Riverside Drive, Dundee, were completed last Friday after several months spent extending the showroom ready for the move of the Mazda brand into a prime position at the front of the multi-franchise site.
The new visual identity for the brand, which Barnetts has represented in Tayside for 35 years, features a silver grille made up of the Mazda wing repeated on the vertical branding fascia panels and the familiar Mazda logo in silver against a new glossy black background panel.

Mazda-blue light strips illuminate the entrance grilles at night. The dealership name is shown in grey against a glossy black background.
Inside the showroom, the tone is very simple and 21st Century, with colour kept to a minimum in favour of white, black and grey. Black Bauhaus-style laminate stools allow customers to chat with staff over a bar-style unit.
On the walls, a four-screen horizontal video wall shows Mazda videos. Nearby, a modern snug-style cushioned car configuration 'pod' allows customers to configure their new vehicle with a tablet computer linked to a large screen.
In the centre of the showroom, the vehicles are arranged like a race grid – all facing customers as they enter.

Barnetts sees this as the first stage of a £1m investment into turning its multi-franchise site at Riverside Drive, Dundee, into a state-of-the-art showcase for the future of car retailing. Plans include a customer handover centre utilising hi-tech 3D projection mapping as well as a car photography studio.
Mazda UK network development manager Philip Eastwood said: 'I am delighted to see the new design in place at Barnetts Mazda. With its premium, fresh design and 21st Century feel, it has the kerb appeal to match our stunning new models.'
Barnetts Mazda general manager Iain Robertson added: 'I'm thrilled and honoured we are the first UK Mazda dealer to unveil its stylish new showroom exterior look.'
Barnetts Motor Group employs more than 130 people over its sites in Dundee and St Andrews, selling more than 4,000 vehicles each year.
MORE: Buyers are more open-minded when planning a car purchase
MORE: Sponges at the ready for Motorpoint charity car wash
MORE: Subaru appoints new west-country dealership
On SuperUnleaded.com: The coolest things we've seen man do on motorbike