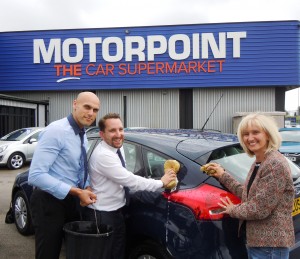 STAFF at Motorpoint Derby have been busy brushing up on their car-cleaning skills ahead of a charity car wash.
The car supermarket, which is headquartered at Chartwell Drive in the city, is hosting the special fundraiser tomorrow (August 5) between 11am and 3pm in aid of the Joseph Cooper Trust.
Motorpoint Derby recently adopted the East Midlands-based charity, which was founded by former employee Tracy Cooper in memory of her son Joseph who tragically died from Lymphoma two years ago.

It has also enlisted the support of Alex Pearce and Andreas Weimann from Derby County who will be coming straight from training to help out on the day.
Satvir Atwal, general manager of Motorpoint Derby, said: 'We're all looking forward to rolling up our sleeves for our charity car wash and raising lots of money for the Joseph Cooper Trust.
'We're expecting lots of people so we've been brushing up on our valeting skills over the last few days to make sure we're ready for the big day.'
Motorpoint Derby is hoping to raise enough money over the coming year to purchase a 'Butterfly Bus' – a  wheelchair-friendly vehicle that the charity will use to transport children with life-limiting illnesses to and from their local hospice.

For more information about the Joseph Cooper Trust click here.
Our picture shows Satvir Atwal, general manager; Kevin Wilding, business support manager and Tracy Cooper, who are all looking forward to taking part.
MORE: Subaru appoints new West Country dealership
MORE: Tragedy strikes as five die in two air crashes
MORE: Plug-in hybrid is the Ultimate for sail makers
On SuperUnleaded.com: Man lists grotty car on AirBnB, we are not joking