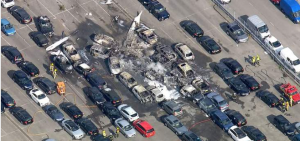 IT has been a dreadful few days for the motor industry, with fatal air crashes at the car auction site at Blackbushe airport in Hampshire, and at Chris Evans' CarFest festival in Cheshire.
On Friday afternoon, a £7 million private jet failed to negotiate the runway at Blackbushe, crashing into the BCA auction car park.
The pilot and his three passengers – who were all members of Osama Bin Laden's family – were killed.

Eyewitnesses spoke of several cars catching fire, and exploding as firefighters fought to control the blaze.
The incident has left air investigators baffled, as the jet climbed 500ft as it was coming into land, when it should have been losing height. 
An emotional Chris Evans yesterday led a minute's silence in honour of the stunt pilot killed at his CarFest motoring festival.
Experienced pilot Kevin Whyman was killed on Saturday when his stunt plane, a Folland Gnat, crashed after a low-level pass of the carnival site.
The show carried on yesterday, and Evans said: 'The police advised us the best thing and the safest thing to do was to carry on with the event, bearing in mind that there were 10,000 children here.'

Whyman started flying the Folland Gnat in 2005 and was one of the founder members of the Gnat Display Team in 2007.
CarFest is a family festival featuring cars, planes and music, and raises money for BBC's Children In Need appeal.
There were no aerial events at the show yesterday. Air accident experts are investigating.
MORE: Plug-in hybrid is the Ultimate for sail-makers
MORE: Perrys nominated for two digital awards
MORE: Burglars raid dealership – right next to a police station…
MORE: Dealers facing 'imminent HMRC crackdown' over demonstrators
On superunleaded.com – Martin Brundle's F1 Scalextric Track Is Very Cool, Massive